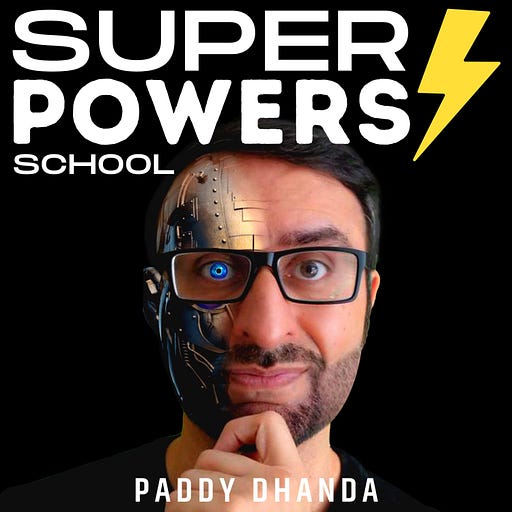 May 25 • 23M
E95: Productivity - Building Better Habits and Boosting Productivity in Daily Life - Erik Fisher (Podcast Host / Productivity Expert)
If knowledge is power, then learning is a superpower. Research shows the average professional invests just 1% (24 mins) of their time per week in formal learning. In each episode, I explore a new superpower to help you unleash your human potential in the age of AI. Join Paddy Dhanda for a regular dose of inspiration from successful entrepreneurs, thought leaders and practitioners to help you build your human skills for the future. Learn about empathy, collaboration, creativity, agility, productivity, leadership, coaching and many more…
🔥 Our Sponsors: How do you know where to invest your efforts when helping your Agile teams? You could simply ask them, but what if you need a more scalable and robust approach? One platform that I personally use and recommend is Comparative Agility. It has the world's largest Agile maturity index with over 4m data points from over 14,000 organisations. You can try it out completely FREE at the following link, and be sure to let me know your thoughts:
In each episode, Paddy Dhanda deep dives into a new human Superpower and practical advice on how you can apply it immediately.
⚡️ Building Better Habits and Boosting Productivity in Daily Life
We all have habits that we would like to change or improve upon. Whether it's waking up earlier, exercising more regularly, or simply being more organized, building better habits can have a significant impact on our daily lives. By adopting new habits, we can boost our productivity, increase our focus, and achieve our goals more efficiently. In this episode, we will explore some practical tips and strategies for building better habits and improving our productivity in daily life. 
Erik Fisher (Podcast Host / Productivity Expert)
For over 10 years, Erik Fisher has been the producer and host of the long-running Beyond The To-Do List Podcast. For over 450 show episodes, Erik has spoken with productivity experts on how they implement productivity strategies in their personal and professional lives, with the mission to explore all aspects of productivity as a means towards the true end goal: living a meaningful life. In the summer of 2005, Erik was working in a data entry position when he noticed that iTunes had an update, with a tab on the left-hand side entitled Podcasts. Checking it out, he instantly knew that this new magic of radio and TiVo mixed together was a breakthrough, and he knew instantly that he was going to create his own podcast one day. By 2007, Erik and a friend had a comedy podcast that was named by iTunes as one of the top 10 new comedy podcasts. During this time, Erik began interacting with the podcast community online and began cohosting on other shows as well. When one of those shows stopped being produced in January 2012, Erik knew it was time to start his own show. Erik knew two things: 1) needed to be something focused on productivity, and 2) he wanted to talk to people about how they did the great work that they did, but be able to approach it from various angles. Having struggled with ADHD, Erik had been on a productivity journey his whole life; creating systems and learning from others who had done the same helped him to not just function, but thrive when it came to getting things done and finding work/life balance. This led him to decide on the appropriately titled podcast, Beyond The To Do List.
https://www.beyondthetodolist.com/
👉 Podcast Website: https://www.superpowers.school/
👉 YouTube: https://www.youtube.com/c/paddydhanda/
👉 Contact Paddy at: pardeep_dhanda (at) hotmail.com

★ BUY ME KO-FI ★
If you enjoy the podcast, then you can donate a small amount here as a token of your appreciation: https://ko-fi.com/paddydhanda