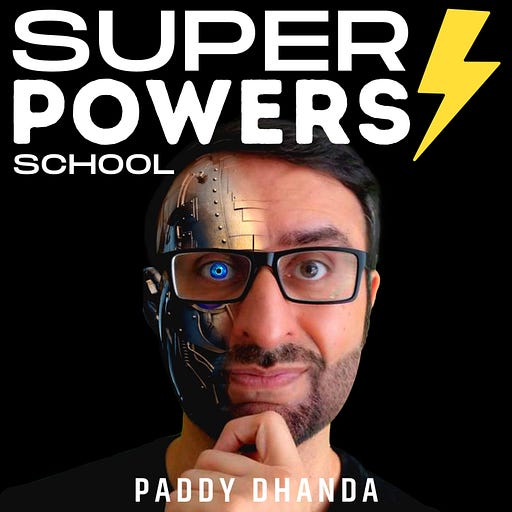 May 16 • 38M
E93: Presenting - Speak Like a Pro: Learn the Secrets of Confident Business Public Speaking - Andrea Pacini (Presentation Coach)
If knowledge is power, then learning is a superpower. Research shows the average professional invests just 1% (24 mins) of their time per week in formal learning. In each episode, I explore a new superpower to help you unleash your human potential in the age of AI. Join Paddy Dhanda for a regular dose of inspiration from successful entrepreneurs, thought leaders and practitioners to help you build your human skills for the future. Learn about empathy, collaboration, creativity, agility, productivity, leadership, coaching and many more…
🔥 Our Sponsors: How do you know where to invest your efforts when helping your Agile teams? You could simply ask them, but what if you need a more scalable and robust approach? One platform that I personally use and recommend is Comparative Agility. It has the world's largest Agile maturity index with over 4m data points from over 14,000 organisations. You can try it out completely FREE at the following link, and be sure to let me know your thoughts:
In each episode, Paddy Dhanda deep dives into a new human Superpower and practical advice on how you can apply it immediately.
⚡️ Speak Like a Pro: Learn the Secrets of Confident Business Public Speaking
Public speaking can be a daunting task, especially when it comes to presenting in a business setting. Whether you're pitching a new idea to your boss or presenting to a group of investors, the pressure to deliver a flawless performance can be overwhelming. However, with the right tools and techniques, you can learn to speak like a pro and exude confidence in any business situation. In this episode, we will explore the secrets of confident business public speaking and provide you with the tips you need to become a master presenter. Don't let the fear of public speaking hold you back any longer – it's time to take your communication skills to the next level.
Andrea Pacini (Presentation Coach)
Andrea Pacini is a presentation coach and Head of Ideas on Stage UK. He specialises in working with business owners, leaders and their teams who want to become more confident presenters. Since 2010 Ideas on Stage has worked with thousands of clients around the world, including companies like Microsoft, Lacoste, The World Bank and over 500 TEDx speakers. Andrea is on a mission to stop great ideas from failing just because of the way they are presented. His vision is to help hundreds of thousands of business leaders share their message so they can grow their business, increase their influence and make a positive impact in the world.
https://www.linkedin.com/in/apacini/
👉 Podcast Website: https://www.superpowers.school/
👉 YouTube: https://www.youtube.com/c/paddydhanda/
👉 Contact Paddy at: pardeep_dhanda (at) hotmail.com

★ BUY ME KO-FI ★
If you enjoy the podcast, then you can donate a small amount here as a token of your appreciation: https://ko-fi.com/paddydhanda