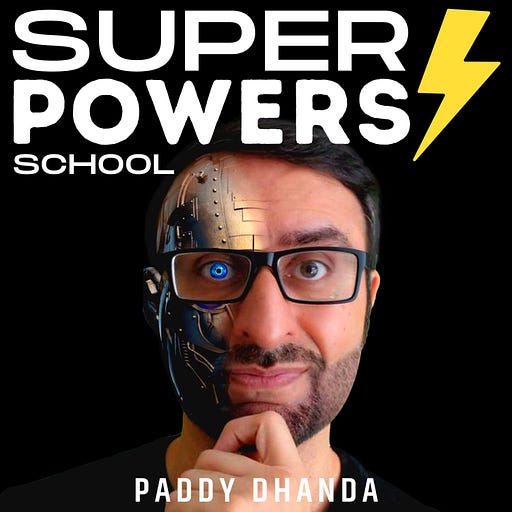 May 2 • 28M
E91: Self-Help - Referrals: The Ultimate Tool for Growing Your Business - Graham Eisner (Author & Referrals Expert)
If knowledge is power, then learning is a superpower. Research shows the average professional invests just 1% (24 mins) of their time per week in formal learning. In each episode, I explore a new superpower to help you unleash your human potential in the age of AI. Join Paddy Dhanda for a regular dose of inspiration from successful entrepreneurs, thought leaders and practitioners to help you build your human skills for the future. Learn about empathy, collaboration, creativity, agility, productivity, leadership, coaching and many more…
🔥 Our Sponsors: How do you know where to invest your efforts when helping your Agile teams? You could simply ask them, but what if you need a more scalable and robust approach? One platform that I personally use and recommend is Comparative Agility. It has the world's largest Agile maturity index with over 4m data points from over 14,000 organisations. You can try it out completely FREE at the following link, and be sure to let me know your thoughts:
In each episode, Paddy Dhanda deep dives into a new human Superpower and practical advice on how you can apply it immediately.
⚡️ Referrals: The Ultimate Tool for Growing Your Business
As a business owner, you're always looking for ways to boost your growth and increase your customer base. While traditional marketing methods can be effective, there's one strategy that often gets overlooked: referrals. Referrals are a powerful tool that can help your business grow in ways you never thought possible. In this episode, we explore the power of referrals and how they can benefit your business. 
Graham Eisner (Author & Referrals Expert)
Graham Eisner has spent 30 years understanding the mindset and methods behind asking for referrals. He is a world-renowned speaker focused on doubling your business, by asking for referrals from your clients and network. He has delivered over 1OOO talks in the UK, Europe & the United States. His seven-step plan helps sales professionals understand their own reluctance, change their mindset, and apply practical techniques so they can ask in a way that's both natural and effective. Graham became one of Goldman Sachs' most successful sales professionals by developing a powerful referrals methodology, and he now teaches his system to clients worldwide, including Barclays, Julius Baer and Deutsche Bank as well as smaller businesses.
https://www.graham-eisner.com/
👉 Podcast Website: https://www.superpowers.school/
👉 YouTube: https://www.youtube.com/c/paddydhanda/
👉 Contact Paddy at: pardeep_dhanda (at) hotmail.com

★ BUY ME KO-FI ★
If you enjoy the podcast, then you can donate a small amount here as a token of your appreciation: https://ko-fi.com/paddydhanda