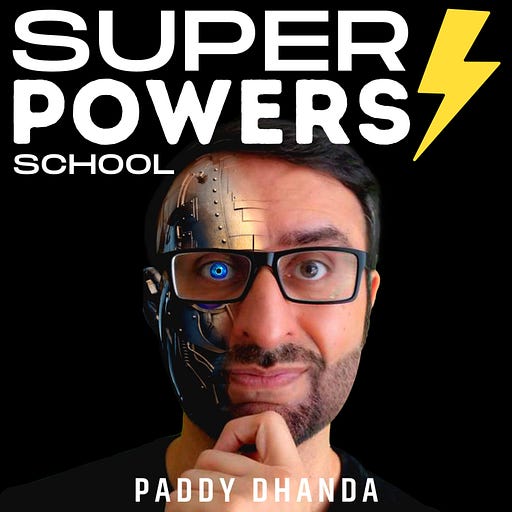 Apr 25 • 42M
E90: Self-Help - My Escape From A Religious Cult: Tips To Design Your Life - Shana Francesca (Interior Design & Life Design Expert)
If knowledge is power, then learning is a superpower. Research shows the average professional invests just 1% (24 mins) of their time per week in formal learning. In each episode, I explore a new superpower to help you unleash your human potential in the age of AI. Join Paddy Dhanda for a regular dose of inspiration from successful entrepreneurs, thought leaders and practitioners to help you build your human skills for the future. Learn about empathy, collaboration, creativity, agility, productivity, leadership, coaching and many more…
🔥 Our Sponsors: How do you know where to invest your efforts when helping your Agile teams? You could simply ask them, but what if you need a more scalable and robust approach? One platform that I personally use and recommend is Comparative Agility. It has the world's largest Agile maturity index with over 4m data points from over 14,000 organisations. You can try it out completely FREE at the following link, and be sure to let me know your thoughts:
In each episode, Paddy Dhanda deep dives into a new human Superpower and practical advice on how you can apply it immediately.
⚡️ My Escape From A Religious Cult: Tips To Design Your Life
There are experiences in life that leave a deep impact on us, shaping us in ways we never imagined possible. Some of these experiences can be positive, while others can be quite challenging. In this episode, Shana shares her experiences of being a part of a religious cult. Rather than letting it define her, she used it as a catalyst to help others. Now, she spends her time helping people to design their lives, drawing upon her unique experiences and insights to guide others towards a brighter future. 
Shana Francesca (Interior Design & Life Design Expert)
Shana Francesca is a  speaker, writer and entrepreneur. Shana has been interviewed on more than 60 podcasts worldwide and has been published in Medium, Authority Magazine & Shoutout LA and emotional intelligence + magazine.  She helps people live more joyful and connected lives through the principles of life design.  Shana believes our present and future are transformed when we infuse our lives with intention, we design our lives and realize the power in accepting ourselves as the author of our story.
linktr.ee/ShanaFrancesca
linktr.ee/Concinnate
https://www.concinnate.world/
👉 Podcast Website: https://www.superpowers.school/
👉 YouTube: https://www.youtube.com/c/paddydhanda/
👉 Contact Paddy at: pardeep_dhanda (at) hotmail.com

★ BUY ME KO-FI ★
If you enjoy the podcast, then you can donate a small amount here as a token of your appreciation: https://ko-fi.com/paddydhanda