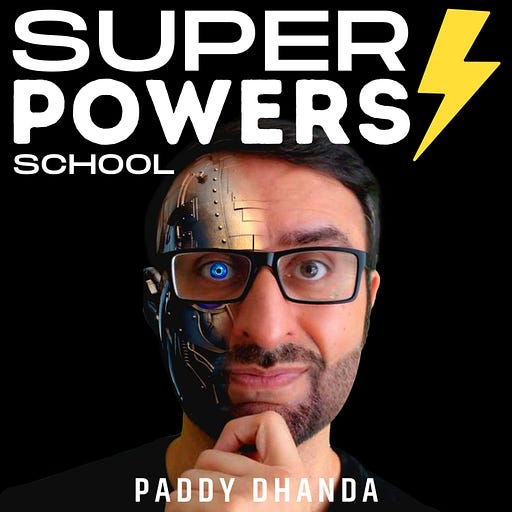 Apr 18 • 45M
E89: Agile - Monk to Coach: Harnessing the Power of Wisdom in Life and Business - Amaranatho Robey (Owner @ Playfulmonk)
If knowledge is power, then learning is a superpower. Research shows the average professional invests just 1% (24 mins) of their time per week in formal learning. In each episode, I explore a new superpower to help you unleash your human potential in the age of AI. Join Paddy Dhanda for a regular dose of inspiration from successful entrepreneurs, thought leaders and practitioners to help you build your human skills for the future. Learn about empathy, collaboration, creativity, agility, productivity, leadership, coaching and many more…
🔥 Our Sponsors: How do you know where to invest your efforts when helping your Agile teams? You could simply ask them, but what if you need a more scalable and robust approach? One platform that I personally use and recommend is Comparative Agility. It has the world's largest Agile maturity index with over 4m data points from over 14,000 organisations. You can try it out completely FREE at the following link, and be sure to let me know your thoughts:
In each episode, Paddy Dhanda deep dives into a new human Superpower and practical advice on how you can apply it immediately.
⚡️ Monk to Coach: Harnessing the Power of Wisdom in Life and Business  
In today's fast-paced world, it's easy to get caught up in the hustle and bustle of everyday life. We often find ourselves constantly chasing after success, money, and material possessions, all while neglecting our internal well-being. But what if we could tap into the power of wisdom to help us navigate this journey? This is where the journey from monk to coach comes in. Combining ancient wisdom with modern-day coaching techniques, individuals can unlock their full potential in both their personal and professional lives. In this episode, we explore the transformative power of harnessing wisdom and how it can lead to a fulfilling and successful life.
Amaranatho Robey (Owner @ Playfulmonk)
Amaranatho is an accredited coaching supervisor and senior practitioner of the European Mentoring and Coaching Council (EMCC). With a background in technical support management and a degree in AI, he has a wealth of experience in diverse industries including education, IT tech companies, and the Health industry. As a mindfulness-based executive and agile mindset coach, Amaranatho uses his unique approach, the PlayfulMonk method, to support executives, agile leaders, and teams in staying calm and connected in complex situations. Drawing on his experiences as a former Buddhist monk and world explorer, he brings a deep understanding of solitude and uncertainty to his coaching practice. Amaranatho has worked with a wide range of clients, including founders of large startups, HR executives, and cybersecurity teams, and has recently been offering coaching supervision to agile coaches and scrum masters to help improve their self-reflection skills, boundary management, ethical awareness, and ability to manage personal and group tensions. He is currently part time Head of Faculty and Leadership for Blend Associates which supports National health Service executives/leaders and teams to navigate the complex, chaotic and stressful environments.
Website: LinkedIn
👉 Podcast Website: https://www.superpowers.school/
👉 YouTube: https://www.youtube.com/c/paddydhanda/
👉 Contact Paddy at: pardeep_dhanda (at) hotmail.com

★ BUY ME KO-FI ★
If you enjoy the podcast, then you can donate a small amount here as a token of your appreciation: https://ko-fi.com/paddydhanda