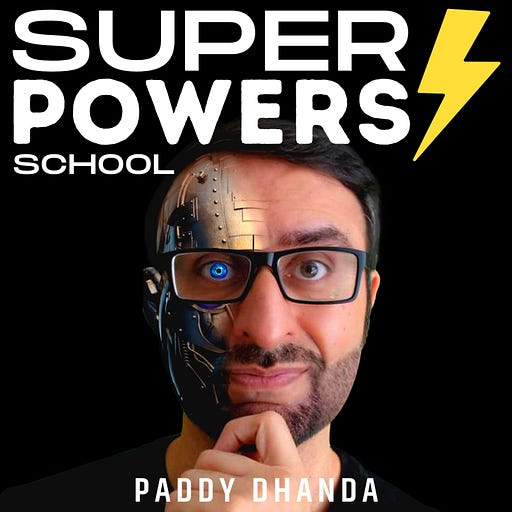 Apr 11 • 38M
E88: Leadership - Unleash Your Inner Pirate and Transform Your Leadership Style - Alex Barker (Pirate / Author / Speaker)
If knowledge is power, then learning is a superpower. Research shows the average professional invests just 1% (24 mins) of their time per week in formal learning. In each episode, I explore a new superpower to help you unleash your human potential in the age of AI. Join Paddy Dhanda for a regular dose of inspiration from successful entrepreneurs, thought leaders and practitioners to help you build your human skills for the future. Learn about empathy, collaboration, creativity, agility, productivity, leadership, coaching and many more…
🔥 Our Sponsors: How do you know where to invest your efforts when helping your Agile teams? You could simply ask them, but what if you need a more scalable and robust approach? One platform that I personally use and recommend is Comparative Agility. It has the world's largest Agile maturity index with over 4m data points from over 14,000 organisations. You can try it out completely FREE at the following link, and be sure to let me know your thoughts:
In each episode, Paddy Dhanda deep dives into a new human Superpower and practical advice on how you can apply it immediately.
⚡️ Unleash Your Inner Pirate and Transform Your Leadership Style 
Ahoy there, mateys! Are you ready to set sail and embark on a journey to discover your inner pirate? While the thought of piracy may conjure up images of swashbuckling adventures on the high seas, there's more to it than just pillaging and plundering. In fact, there are valuable lessons to be learned from the pirate way of life that can be applied to leadership. So, grab your eyepatch and get ready to transform your leadership style as we explore how to unleash your inner pirate.
Alex Barker (Pirate / Author / Speaker)
Alex Barker leads Be More Pirate - a book turned social movement & consultancy. She has worked with a wide range of organisations, from Salesforce to the NHS, helping them to rewrite their rules using the principles of the Golden Age of Piracy. She is speaker, facilitator, co-author of How to Be More Pirate, and a speaking coach for women.
Website: LinkedIn
👉 Podcast Website: https://www.superpowers.school/
👉 YouTube: https://www.youtube.com/c/paddydhanda/
👉 Contact Paddy at: pardeep_dhanda (at) hotmail.com

★ BUY ME KO-FI ★
If you enjoy the podcast, then you can donate a small amount here as a token of your appreciation: https://ko-fi.com/paddydhanda