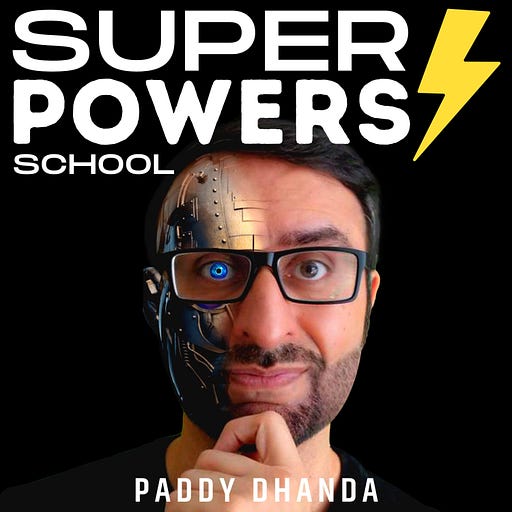 Apr 4 • 41M
E87: Agile - Ukrainian Agile Army: My Story From Agile Coach To Soldier - Dmytro Yarmak (Agile Coach)
If knowledge is power, then learning is a superpower. Research shows the average professional invests just 1% (24 mins) of their time per week in formal learning. In each episode, I explore a new superpower to help you unleash your human potential in the age of AI. Join Paddy Dhanda for a regular dose of inspiration from successful entrepreneurs, thought leaders and practitioners to help you build your human skills for the future. Learn about empathy, collaboration, creativity, agility, productivity, leadership, coaching and many more…
🔥 Our Sponsors: How do you know where to invest your efforts when helping your Agile teams? You could simply ask them, but what if you need a more scalable and robust approach? One platform that I personally use and recommend is Comparative Agility. It has the world's largest Agile maturity index with over 4m data points from over 14,000 organisations. You can try it out completely FREE at the following link, and be sure to let me know your thoughts:
In each episode, Paddy Dhanda deep dives into a new human Superpower and practical advice on how you can apply it immediately.
⚡️ Ukrainian Agile Army: My Story From Agile Coach To Soldier 
Ukraine is embroiled in a long-standing conflict with Russia, and for many of the country's citizens, the battle for peace has been long and hard. For one Ukrainian, his world got turned upside down in 2022 when he was forced to give up his job as an Agile Coach and was thrown into a war zone as a soldier. Dmytro Yarmak shares his extraordinary story of how he had to say goodbye to his family and take the lead of a battalion of over 150 soldiers. He shares how his background in Agile ways of working helped him succeed as a leader in the Ukranian army.
Dmytro Yarmak (Agile Coach)
Father and husband. Experienced Agile Coach with a demonstrated history of working in the management consulting industry. 14 years in IT with software development background and 10 years of leadership for more than 30 teams in Ukraine, Denmark, Germany and Italy.
Website: https://www.agiledrive.io/
Dmytro's LinkedIn: https://www.linkedin.com/in/dmytro-yarmak/
👉 Podcast Website: https://www.superpowers.school/
👉 YouTube: https://www.youtube.com/c/paddydhanda/
👉 Contact Paddy at: pardeep_dhanda (at) hotmail.com

★ BUY ME KO-FI ★
If you enjoy the podcast, then you can donate a small amount here as a token of your appreciation: https://ko-fi.com/paddydhanda