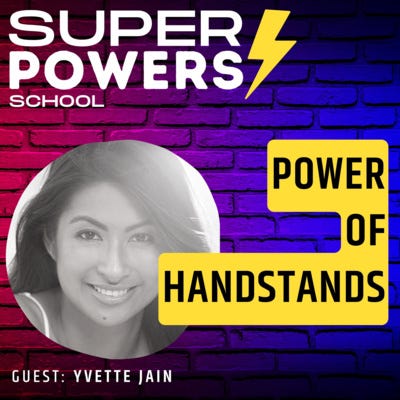 May 12, 2022 • 29M
E8: Self-Help - Discover the Benefits of Practicing Handstands - Yvette Jain (Yoga Instructor & Coach)
If knowledge is power, then learning is a superpower. Research shows the average professional invests just 1% (24 mins) of their time per week in formal learning. In each episode, I explore a new superpower to help you unleash your human potential in the age of AI. Join Paddy Dhanda for a regular dose of inspiration from successful entrepreneurs, thought leaders and practitioners to help you build your human skills for the future. Learn about empathy, collaboration, creativity, agility, productivity, leadership, coaching and many more…
In each episode, Paddy deep dives into a new human Superpower and practical advice on how you can apply it immediately.
⚡️ Discover the Benefits of Practicing Handstands
Yvette Jain is a yoga instructor and coach who is passionate about helping others find their inner strength and balance. Her teachings focus on the power of handstands, and how they can be used to unlock a deeper level of physical, mental, and emotional well-being. In this episode, she shares her insights and expertise, offering tips, advice, and inspiration for those looking to explore the art of handstands. So, join Yvette Jain on a journey to discover the power of handstands and unlock your true potential.
Yvette Jain (Yoga Instructor & Coach)
Helps individuals to believe in themselves, their abilities, and self-worth and to bring forth their inner confidence. Her philosophy: be true to yourself, do your best, and have fun! As a teacher, coach, and entrepreneur, Yvette empowers clients in their physical and personal evolution through the practice of yoga, handstands, and meditation. She is the founder and creator of the fitness program, HANDSTAND CONFIDENTLY, where she believes that one can achieve great things when one applies discipline, focus, and courage in their actions.
She has been teaching for over 10 years for various yoga studios and gyms in NYC and, in recent years, online. She's worked with a number of corporate clients, including the NBA. She's taught for SELF Magazine Workout in Central Park a number of times and has been featured in Mantra Magazine, Origins Magazine, and Ashtanga Daily. She contributes to blogs including MindBodyGreen, Red Tricycle, and K-Deer. Yvette gives back and supports causes, especially for women, children, and minorities.
👉 Podcast Website: https://www.superpowers.school/
👉 YouTube: https://www.youtube.com/c/paddydhanda/
👉 Contact Paddy at: pardeep_dhanda (at) hotmail.com
★ BUY ME KO-FI ★
If you enjoy the podcast, then you can donate a small amount here as a token of your appreciation: https://ko-fi.com/paddydhanda
--- Send in a voice message: https://anchor.fm/superpowers-school/message