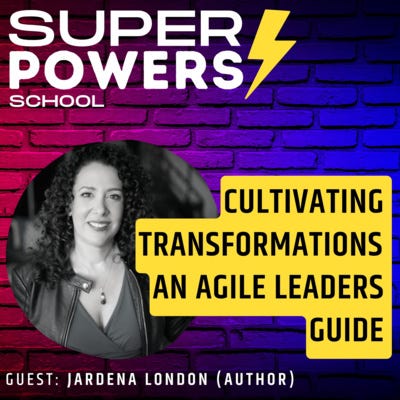 Jan 24 • 36M
E77: Agile - Cultivating Transformations: A Leader's Guide To Connecting the Soulful And The Practical - Jardena London (Author & Agile Coach)
If knowledge is power, then learning is a superpower. Research shows the average professional invests just 1% (24 mins) of their time per week in formal learning. In each episode, I explore a new superpower to help you unleash your human potential in the age of AI. Join Paddy Dhanda for a regular dose of inspiration from successful entrepreneurs, thought leaders and practitioners to help you build your human skills for the future. Learn about empathy, collaboration, creativity, agility, productivity, leadership, coaching and many more…
In each episode, Paddy deep dives into a new human Superpower and practical advice on how you can apply it immediately.
⚡️ Cultivating Transformations: A Leader's Guide To Connecting the Soulful And The Practical
Transformational Leadership is a soulful practice, a practical job, and everything in between. You are breathing new life into an organization, and that energy comes from the spirit of the people. Transformations are usually designed to improve business results, but what's the point if it doesn't make our lives better? The nature of transformation is that it's about uncharted territory, and that means that the answers are unknown. In this episode we discuss Jardena's new book that will offer you tools to get oriented, identify patterns, and work through the challenges without feeling lost and overwhelmed.
Jardena London (Author & Agile Coach)
Jardena is a Business Transformation consultant, author and speaker.
• Jardena is on a mission to create thriving work places that also feed our souls.
• Jardena is a Business Transformation Consultant, author, keynote speaker.
• She's been a consultant for 27 years, serving as founder and CEO of a RosettaAgile.
• Jardena has spent the last 13 years focusing on Business Agility, sparking bold, disruptive thinking with corporate clients.
• She's author of the recent book "Cultivating Transformations: A leader's guide to connecting the soulful and the practical"
👉 Podcast Website: https://www.superpowers.school/
👉 YouTube: https://www.youtube.com/c/paddydhanda/
👉 Contact Paddy at: pardeep_dhanda (at) hotmail.com
★ BUY ME KO-FI ★
If you enjoy the podcast, then you can donate a small amount here as a token of your appreciation: https://ko-fi.com/paddydhanda
--- Send in a voice message: https://anchor.fm/superpowers-school/message