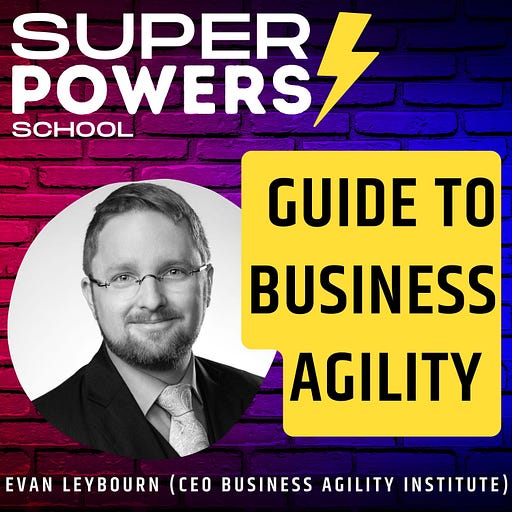 Jan 9 • 44M
E75: Agile - Essential Guide to Achieving Business Agility - Evan Leybourn (Founder & CEO Business Agility Institute)
If knowledge is power, then learning is a superpower. Research shows the average professional invests just 1% (24 mins) of their time per week in formal learning. In each episode, I explore a new superpower to help you unleash your human potential in the age of AI. Join Paddy Dhanda for a regular dose of inspiration from successful entrepreneurs, thought leaders and practitioners to help you build your human skills for the future. Learn about empathy, collaboration, creativity, agility, productivity, leadership, coaching and many more…
In each episode, Paddy deep dives into a new human Superpower and practical advice on how you can apply it immediately.
⚡️ Essential Guide to Achieving Business Agility
Business agility is an increasingly important concept in today's rapidly changing business environment. With the need to rapidly adapt to new challenges, organizations need to be able to respond quickly and efficiently to changing market conditions. Business agility provides the capacity to rapidly adjust to the environment and maintain a competitive edge. It is a key factor in ensuring the success of any business. In this guide, we will explore what business agility is, how it can be measured, and how to use it to your advantage.
Evan Leybourn (Founder & CEO Business Agility Institute)
"Serving the next-generation of companies to thrive with uncertainty" Evan is the Founder and CEO of the Business Agility Institute; an international membership body to both champion and support the next-generation of organizations. Companies that are agile, innovative and dynamic - perfectly designed to thrive in today's unpredictable markets. His experience while holding senior leadership and board positions in both private industry and government has driven his work in business agility and he regularly speaks on these topics at local and international industry conferences. As well as leading the Business Agility Institute, Evan is also the author of Directing the Agile Organization (2012) and #noprojects; a culture of continuous value (2018).
👉 Podcast Website: https://www.superpowers.school/
👉 YouTube: https://www.youtube.com/c/paddydhanda/
👉 Contact Paddy at: pardeep_dhanda (at) hotmail.com
★ BUY ME KO-FI ★
If you enjoy the podcast, then you can donate a small amount here as a token of your appreciation: https://ko-fi.com/paddydhanda
--- Send in a voice message: https://anchor.fm/superpowers-school/message