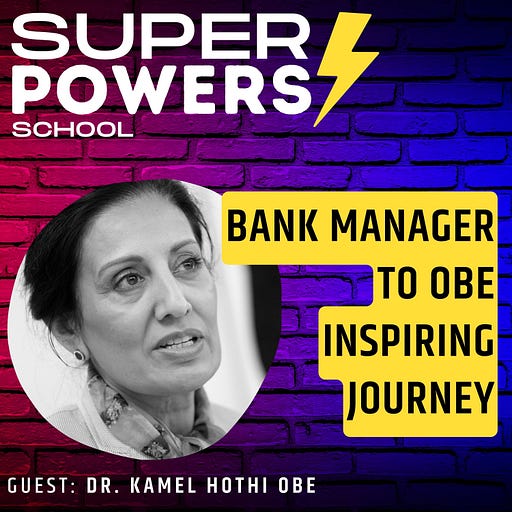 Dec 25, 2022 • 48M
E73: Leadership - Discover Your Purpose: Bank Manager To OBE And Working With The Royal Family - Dr. Kamel Hothi OBE
If knowledge is power, then learning is a superpower. Research shows the average professional invests just 1% (24 mins) of their time per week in formal learning. In each episode, I explore a new superpower to help you unleash your human potential in the age of AI. Join Paddy Dhanda for a regular dose of inspiration from successful entrepreneurs, thought leaders and practitioners to help you build your human skills for the future. Learn about empathy, collaboration, creativity, agility, productivity, leadership, coaching and many more…
In each episode, Paddy deep dives into a new human Superpower and practical advice on how you can apply it immediately.
⚡️ Discover Your Purpose: Bank Manager To OBE And Working With The Royal Family
Dr. Kamel Hothi OBE
Is ranked in the top 100 most influential black, Asian and minority ethnic leaders in the UK and was awarded an OBE in 2017 for services to promoting diversity in banking. From cashier to Director, over 4 decades Kamel has experienced first-hand the struggles of smashing glass ceilings, discrimination, and gender imbalance resulting in forming the Ethnic Minority and Women's network. This intrapreneur drive pushed her on to develop the Asian Strategy, cultural training initiatives, new communication campaigns and products for Lloyds Banking Group. Her skill in stakeholder management and collaboration has seen huge successes such as the development of civil partnerships across the private and public sector by encouraging innovation of programmes and supporting culture change and new operating models following mergers, acquisitions and turnarounds. Kamel is an international motivational speaker invited to inspire colleagues on topics like allyship, gender, race equality and leadership. Leaving audiences emotionally moved and thoughtful, including helping senior leaders transition to becoming more inclusive and empathetic. Post retirement Kamel now supports several boards as an Advisor, Trustee including Lloyds of London ESG Committee for the Insurance Industry, The Queen's Commonwealth Trust across 54 countries on social change for youth, Ambassador for Alzheimer's Soc and a NED TLC Lions where she has supported over 300 companies. All this she has balanced as a mother, carer and wife living within a complex traditional Indian culture full of honour and traditions.
👉 Podcast Website: https://www.superpowers.school/
👉 YouTube: https://www.youtube.com/c/paddydhanda/
👉 Contact Paddy at: pardeep_dhanda (at) hotmail.com
★ BUY ME KO-FI ★
If you enjoy the podcast, then you can donate a small amount here as a token of your appreciation: https://ko-fi.com/paddydhanda
--- Send in a voice message: https://anchor.fm/superpowers-school/message