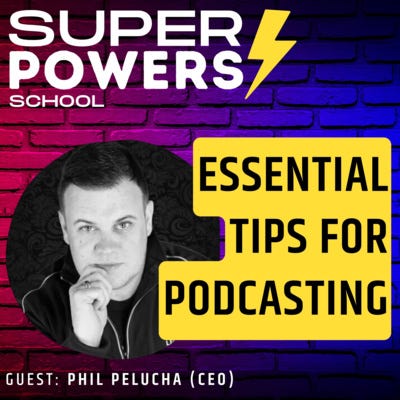 Dec 20, 2022 • 30M
E71: Self-Help - Jumpstart Your Podcast Journey with These Essential Tips - Phil Pelucha (CEO & Podcaster)
If knowledge is power, then learning is a superpower. Research shows the average professional invests just 1% (24 mins) of their time per week in formal learning. In each episode, I explore a new superpower to help you unleash your human potential in the age of AI. Join Paddy Dhanda for a regular dose of inspiration from successful entrepreneurs, thought leaders and practitioners to help you build your human skills for the future. Learn about empathy, collaboration, creativity, agility, productivity, leadership, coaching and many more…
In each episode, Paddy deep dives into a new human Superpower and practical advice on how you can apply it immediately.
⚡️ Jumpstart Your Podcast Journey with These Essential Tips
Are you considering starting your own podcast? As exciting as it may be, it can also feel overwhelming. With so much to learn and do, it's easy to feel a bit lost. Fortunately, Phil Pelucha, CEO and successful podcaster, has some essential tips to help you make the most of your journey. From understanding the basics of hosting to marketing your show, read on to unlock expert advice on launching your podcast.
Phil Pelucha (CEO & Podcaster)
Is an internationally renowned Celebrity Entrepreneur Business & Sports Consultant best known for 'Billionaires in Boxers.' Philip is exceptionally well connected globally and is sought after for his ability to teach sport to business and business to sport. Often the intermediary for largescale commercial and investment deals, translating Football into business and vice versa. Philip has connections with current and future business leaders as well as some of the best-known sports brands, including but not limited to: The Premier League, FIFA, UEFA, ECA, CAS, MLS, IOC, FPF, Barcelona FC, PSG, Real Madrid, Liverpool FC, Olympique Lyonnais, Juventus, Bayern Munich, Atlético de Madrid & Porto. He is famous for his ability to take your business from Unknown to Unrivalled and his highly publicized long-term ambition to own Liverpool FC.
👉 Podcast Website: https://www.superpowers.school/
👉 YouTube: https://www.youtube.com/c/paddydhanda/
👉 Contact Paddy at: pardeep_dhanda (at) hotmail.com
★ BUY ME KO-FI ★
If you enjoy the podcast, then you can donate a small amount here as a token of your appreciation: https://ko-fi.com/paddydhanda
--- Send in a voice message: https://anchor.fm/superpowers-school/message