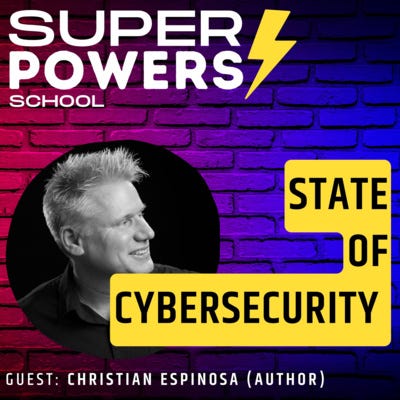 Dec 8, 2022 • 10M
E68: Self-Help - What Is The Current State Of Cybersecurity - Christian Espinosa (Author of Smartest Person In The Room)
If knowledge is power, then learning is a superpower. Research shows the average professional invests just 1% (24 mins) of their time per week in formal learning. In each episode, I explore a new superpower to help you unleash your human potential in the age of AI. Join Paddy Dhanda for a regular dose of inspiration from successful entrepreneurs, thought leaders and practitioners to help you build your human skills for the future. Learn about empathy, collaboration, creativity, agility, productivity, leadership, coaching and many more…
In each episode, Paddy deep dives into a new human Superpower and practical advice on how you can apply it immediately.
⚡️ What Is The Current State Of Cybersecurity?
The current state of cybersecurity is an increasingly concerning topic as cyber threats and attacks increase in frequency and sophistication. With the digital transformation of businesses, organizations of all sizes must stay ahead of cyber threats and remain vigilant against potential cyberattacks. From data breaches and ransomware attacks to phishing scams and malicious software, organizations are facing a wide array of cyber threats. The severity of these threats may vary, but they all have the potential to cause serious harm to an organization. Cybersecurity is a top priority for organizations as the potential impacts of a breach can range from a financial and reputational loss to a total disruption of operations. Organizations are responding to this challenge by increasing their investments in cybersecurity training, technology, and personnel. Additionally, organizations are implementing security protocols to protect their data, networks, and systems. These protocols include authentication systems, encryption technologies, and access control measures, as well as basic cyber hygiene such as patching, malware protection, and email security. The current state of cybersecurity is also being shaped by the rise of cloud computing and the Internet of Things (IoT). In the cloud, organizations must ensure that their data and systems are secure and protected from unauthorized access. Meanwhile, the IoT presents a unique set of challenges as it increases the attack surface and introduces new threats such as botnets, device hijacking, and data manipulation.
Christian Espinosa
Christian Espinosa is the bestselling author of "The Smartest Person in the Room", an entrepreneur and founder of Alpine Security, a white hat hacker, a certified high-performance coach, and a lover of heavy metal music and spicy food. He's also an Air Force veteran and Ironman triathlete. Christian used to value being the smartest person in the room until he realized that his greatest contribution to humanity, leadership, and the fight against cybercrime is his ability to bring awareness and simple solutions to challenges associated with high IQ/low EQ staff.
👉 Podcast Website: https://www.superpowers.school/
👉 YouTube: https://www.youtube.com/c/paddydhanda/
👉 Contact Paddy at: pardeep_dhanda (at) hotmail.com
★ BUY ME KO-FI ★
If you enjoy the podcast, then you can donate a small amount here as a token of your appreciation: https://ko-fi.com/paddydhanda
--- Send in a voice message: https://anchor.fm/superpowers-school/message