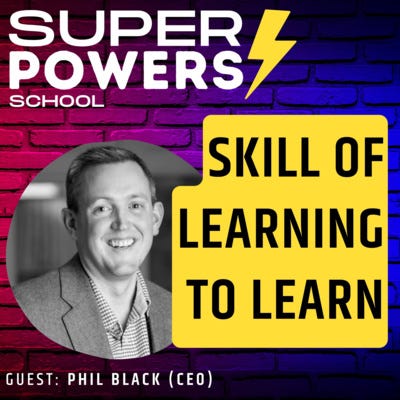 Dec 1, 2022 • 18M
E66: Agile - Art Of How To Learn And Why Schools Have Failed To Teach This Fundamental Skill - Phil Black (CEO)
If knowledge is power, then learning is a superpower. Research shows the average professional invests just 1% (24 mins) of their time per week in formal learning. In each episode, I explore a new superpower to help you unleash your human potential in the age of AI. Join Paddy Dhanda for a regular dose of inspiration from successful entrepreneurs, thought leaders and practitioners to help you build your human skills for the future. Learn about empathy, collaboration, creativity, agility, productivity, leadership, coaching and many more…
In each episode, Paddy deep dives into a new human Superpower and practical advice on how you can apply it immediately.
⚡️ Art Of How To Learn And Why Schools Have Failed To Teach This Fundamental Skill
In this episode, we explore why our schools neglect one of the most important modern skills - the skill of being able to learn. Phil Black is the founder of the Mira app and shares his passion for how he is looking to transform the way children learn.
As a lifelong learner, I believe that the art of how to learn is a fundamental skill that should be taught in school. Unfortunately, schools have largely failed in teaching this important skill, leaving students ill-prepared to take on the challenges of a rapidly changing world.
The ability to learn is the most valuable asset any individual can possess, as it allows them to acquire the knowledge and skills necessary to remain engaged and competitive in their chosen field. Learning is a skill that can be developed and improved with practice and dedication, and yet so often students are taught to memorize information rather than developing a deeper understanding of the subject material. Without understanding, knowledge fails to stick and students are unable to apply the skills they have learned in meaningful ways.
The ability to learn is not only important for professional success, but also for the development of personal growth and creativity. The ability to learn and adapt quickly to new challenges and situations is key for any individual. The ability to learn and develop new skills allows individuals to stay ahead of the curve and remain competitive in the ever-changing landscape of their chosen field.
It is time that schools recognize the importance of teaching students the art of how to learn. By providing students with the skills they need to be successful, schools can ensure that students have the necessary knowledge and skills to take on the challenges of a rapidly changing world.
Phil Black (CEO)
Experienced Business, Product and Technology Leader who has, in some way, been involved in helping people and organisations deliver change and transformation, become more agile, and re-imagine digital experiences. He now leads a startup building Mira - coaching technology to radically individualise learning at scale.
👉 Podcast Website: https://www.superpowers.school/
👉 YouTube: https://www.youtube.com/c/paddydhanda/
👉 Contact Paddy at: pardeep_dhanda (at) hotmail.com
★ BUY ME KO-FI ★
If you enjoy the podcast, then you can donate a small amount here as a token of your appreciation: https://ko-fi.com/paddydhanda
--- Send in a voice message: https://anchor.fm/superpowers-school/message