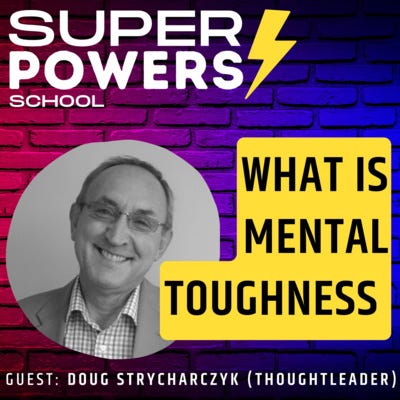 Nov 22, 2022 • 24M
E63: Self-Help - Strengthen Your Mental Muscles with Mental Toughness - Douglas Strycharczyk (Author)
If knowledge is power, then learning is a superpower. Research shows the average professional invests just 1% (24 mins) of their time per week in formal learning. In each episode, I explore a new superpower to help you unleash your human potential in the age of AI. Join Paddy Dhanda for a regular dose of inspiration from successful entrepreneurs, thought leaders and practitioners to help you build your human skills for the future. Learn about empathy, collaboration, creativity, agility, productivity, leadership, coaching and many more…
In each episode, Paddy deep dives into a new human Superpower you can apply immediately.
⚡️ Strengthen Your Mental Muscles with Mental Toughness
Mental toughness is a concept that has been around for a long time, but its definition and importance have become more clear in recent years. Mental toughness is a set of psychological skills and qualities that help an individual to stay focused, motivated, and resilient in the face of challenge, adversity, and even success. It can involve managing emotions, controlling impulses, and staying focused on goals, among other things. In this episode, we explore what mental toughness is and how it can help you in your daily life.
Doug Strycharczyk
Is the CEO of AQR International, which he founded in 1989 – now recognized as one of the most innovative global providers of resources and services for individual and organizational development. Doug has pioneered the application of the mental toughness concept to every sector where individuals face challenge or stressors. Together with Peter Clough and John Perry, he has been instrumental in developing the latest evolution of the mental toughness concept and the MTQPlus measure.
👉 Podcast Website: https://www.superpowers.school/
👉 YouTube: https://www.youtube.com/c/paddydhanda/
👉 Contact Paddy at: pardeep_dhanda (at) hotmail.com
★ BUY ME KO-FI ★
If you enjoy the podcast, then you can donate a small amount here as a token of your appreciation: https://ko-fi.com/paddydhanda
--- Send in a voice message: https://anchor.fm/superpowers-school/message