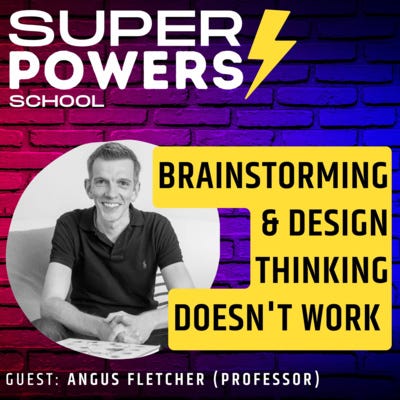 Nov 10, 2022 • 33M
E60: Creativity - Debunking the Myth of Brainstorming and Design Thinking – Why They Don't Always Work - Angus Fletcher (Professor & Author)
If knowledge is power, then learning is a superpower. Research shows the average professional invests just 1% (24 mins) of their time per week in formal learning. In each episode, I explore a new superpower to help you unleash your human potential in the age of AI. Join Paddy Dhanda for a regular dose of inspiration from successful entrepreneurs, thought leaders and practitioners to help you build your human skills for the future. Learn about empathy, collaboration, creativity, agility, productivity, leadership, coaching and many more…
In each episode, Paddy deep dives into a new human Superpower and practical advice on how you can apply it immediately.
⚡️ Debunking the Myth of Brainstorming and Design Thinking – Why They Don't Always Work
Brainstorming and design thinking are two popular methods of problem solving, but it's important to understand why they don't always work. In this blog post, we'll explore the reasons why brainstorming and design thinking can fail and how to avoid those pitfalls. We'll also look at alternative methods of problem solving that can prove to be more effective. Get ready to dive into the world of problem solving and uncover the secrets to successful brainstorming and design thinking.
Angus Fletcher
My research explores why children are more creative than computer AI--and how to use literature, art, and stories to increase innovation, resilience, and joy. I work with teams at UPenn Wharton, US Army Special Operations, Hollywood, Silicon Valley AI startups, trauma nurses, and public elementary schools. I'm the author of Wonderworks (Simon & Schuster, 2021) and Storythinking (Columbia University Press, 2023) and dozens of peer-reviewed articles in Annals of the New York Academy of Sciences, Harvard Business Review, etc.
👉 Podcast Website: https://www.superpowers.school/
👉 YouTube: https://www.youtube.com/c/paddydhanda/
👉 Contact Paddy at: pardeep_dhanda (at) hotmail.com
★ BUY ME KO-FI ★
If you enjoy the podcast, then you can donate a small amount here as a token of your appreciation: https://ko-fi.com/paddydhanda
--- Send in a voice message: https://anchor.fm/superpowers-school/message