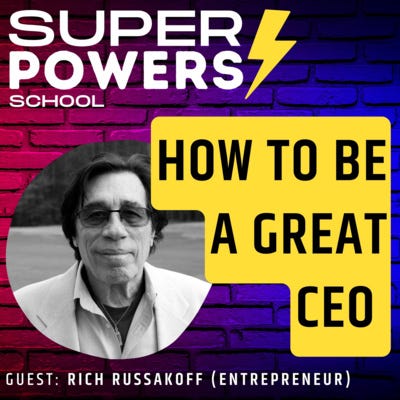 Nov 8, 2022 • 36M
E59: Leadership - Unlock Your Leadership Potential: Become an Outstanding CEO - Rich Russakoff (Business Coach & Entrepreneur)
If knowledge is power, then learning is a superpower. Research shows the average professional invests just 1% (24 mins) of their time per week in formal learning. In each episode, I explore a new superpower to help you unleash your human potential in the age of AI. Join Paddy Dhanda for a regular dose of inspiration from successful entrepreneurs, thought leaders and practitioners to help you build your human skills for the future. Learn about empathy, collaboration, creativity, agility, productivity, leadership, coaching and many more…
In each episode, Paddy deep dives into a new human Superpower and practical advice on how you can apply it immediately.
⚡️ Unlock Your Leadership Potential: Become an Outstanding CEO
Great CEOs are the driving force behind successful companies. They set the tone for their organization, inspiring and motivating their team to strive for excellence. From establishing a clear vision and inspiring effective strategies to leading by example and inspiring innovation, there are a variety of ways to become an outstanding CEO. In this episode post, we explore the key elements of being a great CEO and how to implement them in your organization.
Rich Russakoff
Is an internationally acclaimed business coach, speaker, author, and serial entrepreneur. His coaching successes include 7 Ernst & Young Entrepreneur of the Year Awards and over 100 winners of the INC. 5000 award. Rich was a featured speaker for INC Magazine Conferences, the Fortune Growth Summit, and over 100 other entrepreneurial conferences and workshops throughout the world. He has also been a member of faculty on the Entrepreneurial Masters Program at MIT for the past 20 years. He is an Amazon #1 Bestseller with the recent publication of his third book, 'People, Time & Money: Volume 2.'
👉 Podcast Website: https://www.superpowers.school/
👉 YouTube: https://www.youtube.com/c/paddydhanda/
👉 Contact Paddy at: pardeep_dhanda (at) hotmail.com
★ BUY ME KO-FI ★
If you enjoy the podcast, then you can donate a small amount here as a token of your appreciation: https://ko-fi.com/paddydhanda
--- Send in a voice message: https://anchor.fm/superpowers-school/message