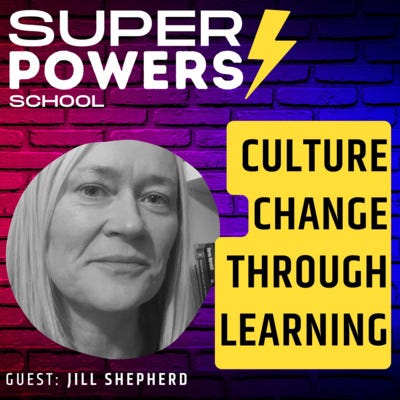 Oct 27, 2022 • 13M
E56: Productivity - Leveraging Learning to Drive Cultural Change Within Businesses - Dr Jill Shepherd (Practice Director)
If knowledge is power, then learning is a superpower. Research shows the average professional invests just 1% (24 mins) of their time per week in formal learning. In each episode, I explore a new superpower to help you unleash your human potential in the age of AI. Join Paddy Dhanda for a regular dose of inspiration from successful entrepreneurs, thought leaders and practitioners to help you build your human skills for the future. Learn about empathy, collaboration, creativity, agility, productivity, leadership, coaching and many more…
In each episode, Paddy deep dives into a new human Superpower and practical advice on how you can apply it immediately.
⚡️ Leveraging Learning to Drive Cultural Change Within Businesses
Learning is essential for keeping up with the ever-changing landscape of business. It allows for employees and organizations to stay on top of the current industry trends and to equip themselves with the necessary skills to succeed. With the right learning practices, businesses can create a culture of adaptability, in which workers are continually evolving and growing to become better equipped to handle challenges and opportunities. Learning can also foster collaboration, helping to create an environment that is conducive to creativity and problem-solving. Through learning, businesses can build a culture of innovation and a strong sense of community, which can lead to greater success in the long run.
Dr Jill Shepherd (Practice Director)
I work to help client organisations make the most of learning in a tech driven, VUCA and BANI world.
I do so by using innovative ideas to embrace learning in ways that are personalised and yet also valuable to society and organisations.
My interests lie in disruption, complexity and impact. I work across corporate learning, upskilling and reskilling programmes and apprenticeships.
I am culturally sensitive, an experienced line manager and influencer, across internal and external stakeholders. I have commercial responsibility as well as investment responsibility. I am respected for my thought leadership that I continually develop and share.
Personal qualifications and experience make me strategic, collaborative and performance driven. I like organisations with a social purpose who respect the performance role of diversity.
👉 Podcast Website: https://www.superpowers.school/
👉 YouTube: https://www.youtube.com/c/paddydhanda/
👉 Contact Paddy at: pardeep_dhanda (at) hotmail.com
★ BUY ME KO-FI ★
If you enjoy the podcast, then you can donate a small amount here as a token of your appreciation: https://ko-fi.com/paddydhanda
--- Send in a voice message: https://anchor.fm/superpowers-school/message