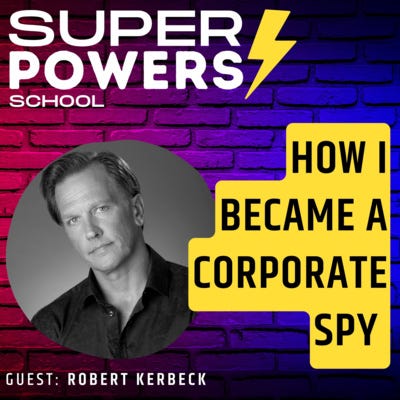 Oct 18, 2022 • 28M
E53: Self-Help - Exploring the Dark Side of Business: Corporate Spying - Robert Kerbeck (Author of RUSE and Former Corporate Spy)
If knowledge is power, then learning is a superpower. Research shows the average professional invests just 1% (24 mins) of their time per week in formal learning. In each episode, I explore a new superpower to help you unleash your human potential in the age of AI. Join Paddy Dhanda for a regular dose of inspiration from successful entrepreneurs, thought leaders and practitioners to help you build your human skills for the future. Learn about empathy, collaboration, creativity, agility, productivity, leadership, coaching and many more…
In each episode, Paddy deep dives into a new human Superpower and practical advice on how you can apply it immediately.
⚡️ Exploring the Dark Side of Business: Corporate Spying
Corporate espionage has become an increasingly prominent feature in the business world. But what exactly is corporate spying, who is engaging in it, and how does it work? Robert Kerbeck offers a glimpse into the world of corporate espionage, providing insight into the tactics and strategies used by companies to gain the upper hand in the competitive business environment. Join us as we explore the shadowy realm of corporate spying and discover how companies leverage this activity to their advantage.
Robert Kerbeck (Author of RUSE and Former Corporate Spy)
How I Gave Up Being A Corporate Spy | Robert Kerbeck (Author of RUSE and Former Corporate Spy) Robert Kerbeck's true crime memoir, RUSE: Lying the American Dream from Hollywood to Wall Street is a thrilling look into his career as a corporate spy. Frank Abagnale, author of Catch Me If You Can, said "Kerbeck has mastered the art of social engineering, or what he calls 'rusing,' and taken it to a whole new level." Former CIA spy Valerie Plame said, "Successful spies are great storytellers and Robert Kerbeck ranks up there with the best of them." Robert's previous book, MALIBU BURNING: The Real Story Behind LA's Most Devastating Wildfire, won a 2021 SoCal Journalism Award, a 2020 IPPY Award, and the 2020 Best of LA Award. Robert's essays and short stories have been featured in numerous magazines and literary journals, including Narratively, San Francisco Chronicle, Los Angeles Magazine, Los Angeles Times, and Shondaland. One of his stories was adapted into the award-winning film, Reconnected, which has appeared at film festivals worldwide. A lifetime member of The Actors Studio, Robert has worked extensively in theatre, film, and television, appearing in lead roles in major shows and earning several awards. A graduate of the University of Pennsylvania, Robert resides in Malibu.
👉 Podcast Website: https://www.superpowers.school/
👉 YouTube: https://www.youtube.com/c/paddydhanda/
👉 Contact Paddy at: pardeep_dhanda (at) hotmail.com
★ BUY ME KO-FI ★
If you enjoy the podcast, then you can donate a small amount here as a token of your appreciation: https://ko-fi.com/paddydhanda
--- Send in a voice message: https://anchor.fm/superpowers-school/message