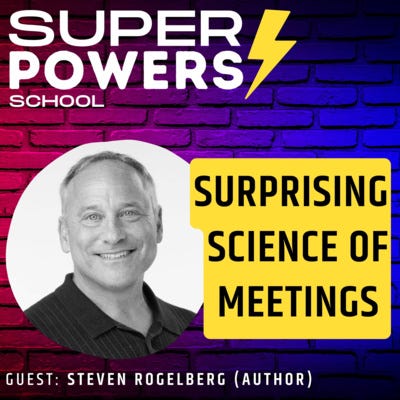 Oct 4, 2022 • 21M
E49: Facilitation - Top Tips For Running Better Meetings: The Surprising Science of Meetings - Dr Steven Rogelberg (Author)
If knowledge is power, then learning is a superpower. Research shows the average professional invests just 1% (24 mins) of their time per week in formal learning. In each episode, I explore a new superpower to help you unleash your human potential in the age of AI. Join Paddy Dhanda for a regular dose of inspiration from successful entrepreneurs, thought leaders and practitioners to help you build your human skills for the future. Learn about empathy, collaboration, creativity, agility, productivity, leadership, coaching and many more…
In each episode, Paddy deep dives into a new human Superpower and practical advice on how you can apply it immediately.
⚡️ Top Tips For Running Better Meetings: The Surprising Science of Meetings
Are you tired of long, unproductive meetings? Do you feel like you're wasting precious time with endless discussions that don't bring tangible results? If so, you're not alone. The science of meetings is filled with research and insights that can help you make better decisions and have more productive meetings. In this episode, we explore the surprising science of meetings according to Dr Steven Rogelberg, author of the bestselling book on the topic. Find out how to make meetings more efficient and productive with these top tips from the expert himself.
Prof. Dr. Steven G. Rogelberg (Author)
Professor of organisational science, management, and psychology, as well as the director of organisational science. He has more than 100 publications addressing issues such as team effectiveness, leadership, engagement, and meetings at work. He is also the author of the Surprising Science of Meetings.
👉 Podcast Website: https://www.superpowers.school/
👉 YouTube: https://www.youtube.com/c/paddydhanda/
👉 Contact Paddy at: pardeep_dhanda (at) hotmail.com
★ BUY ME KO-FI ★
If you enjoy the podcast, then you can donate a small amount here as a token of your appreciation: https://ko-fi.com/paddydhanda
--- Send in a voice message: https://anchor.fm/superpowers-school/message