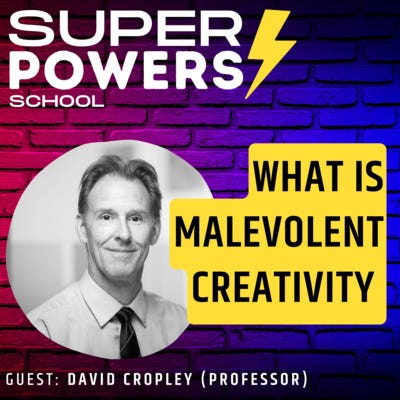 Sep 29, 2022 • 27M
E48: Creativity - Uncovering the Dark Side of Creative Thinking: Malevolent Creativity Explained - Professor David Cropley (Creativity Researcher)
If knowledge is power, then learning is a superpower. Research shows the average professional invests just 1% (24 mins) of their time per week in formal learning. In each episode, I explore a new superpower to help you unleash your human potential in the age of AI. Join Paddy Dhanda for a regular dose of inspiration from successful entrepreneurs, thought leaders and practitioners to help you build your human skills for the future. Learn about empathy, collaboration, creativity, agility, productivity, leadership, coaching and many more…
In each episode, Paddy deep dives into a new human Superpower and practical advice on how you can apply it immediately.
⚡️ Uncovering the Dark Side of Creative Thinking: Malevolent Creativity Explained
Creativity is often seen as a positive trait, but it can also have a darker side. Professor David Cropley's research into malevolent creativity explores the concept of creativity being used for destructive and malicious purposes. From the manipulation of others through creative deception to the development of dangerous weapons, Professor Cropley's research will help us to better understand the ways in which creativity can be used for detrimental ends.
David Cropley (Creativity Researcher)
Professor of Engineering Innovation at the University of South Australia. He specialises in helping people and organisations become better, more effective, problem solvers. Dr Cropley joined the School of Engineering at the South Australian Institute of Technology (SAIT) in 1990, after serving for four years in the United Kingdom's Royal Navy, including deployments to the Caribbean and Middle East. Following the establishment of the University in 1991, he completed a PhD in Measurement Systems Engineering in 1997, and a Graduate Certificate in Higher Education in 2002. Dr Cropley has taught a variety of courses on engineering, including digital electronics, linear electronics, systems engineering, and engineering design. He teaches creativity and innovation across programs, from gifted education through to management. Dr Cropley's research interests range across creativity in education, the assessment of creativity and innovation in organisations, the role of creativity and innovation in terrorism and crime, and the nexus of creative problem-solving and engineering. Dr Cropley is author/co-author of nine books including Creativity and Crime: A Psychological Analysis (Cambridge University Press, 2013); Creativity in Engineering: Novel Solutions to Complex Problems (Academic Press, 2015); The Psychology of Innovation in Organizations (Cambridge University Press, 2015), and Femina Problematis Solvendis – Problem-Solving Woman: A History of the Creativity of Women (Springer, 2020). Now a recognised expert in creative problem solving and innovation, Dr David Cropley was a scientific consultant and on-screen expert for the Australian ABC TV Documentaries Redesign My Brain (2013), Life at 9 (2014) and Redesign My Brain, Series 2 (2015). For more than 20 years, he has helped schools and organisations in Australia, the US, and Europe develop more effective, creative problem solvers.
👉 Podcast Website: https://www.superpowers.school/
👉 YouTube: https://www.youtube.com/c/paddydhanda/
👉 Contact Paddy at: pardeep_dhanda (at) hotmail.com
★ BUY ME KO-FI ★
If you enjoy the podcast, then you can donate a small amount here as a token of your appreciation: https://ko-fi.com/paddydhanda
--- Send in a voice message: https://anchor.fm/superpowers-school/message