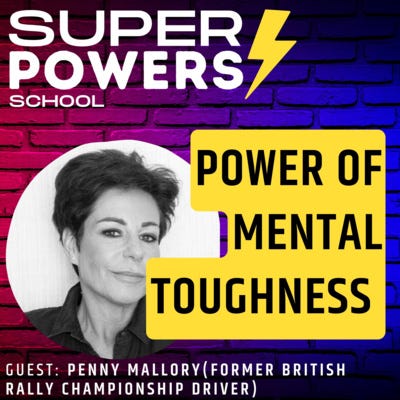 Sep 15, 2022 • 15M
E44: Self-Help - Transform Your Life with Mental Toughness: Achieving Success Through Resilience and Focus - Penny Mallory (Former British Rally Champ...
If knowledge is power, then learning is a superpower. Research shows the average professional invests just 1% (24 mins) of their time per week in formal learning. In each episode, I explore a new superpower to help you unleash your human potential in the age of AI. Join Paddy Dhanda for a regular dose of inspiration from successful entrepreneurs, thought leaders and practitioners to help you build your human skills for the future. Learn about empathy, collaboration, creativity, agility, productivity, leadership, coaching and many more…
In each episode, Paddy deep dives into a new human Superpower and practical advice on how you can apply it immediately.
⚡️ Transform Your Life with Mental Toughness: Achieving Success Through Resilience and Focus
In today's world, mental toughness is often seen as a superpower. It can be a huge advantage when it comes to achieving success and reaching our goals, whether it's in our professional or personal lives. Penny Mallory, a former British Rally Championship Driver, knows this all too well. From her experience in the fast-paced world of motorsport, Penny has learned the power of mental toughness and how it can be used to push past obstacles and reach any goal. In this blog, Penny will share her knowledge and first-hand experience on how to channel mental toughness and make it work for you.
Penny Mallory
Is an English keynote speaker and performance coach, and a former British Rally Championship driver. She is a Leading Authority on Mental Toughness. She became the first woman to drive a World Rally Car (WRC)-specification in the otherwise male-dominated FIA World Rally Championship. Penny has been a boxer, mountaineer, marathon runner and triathlete. She also worked as a precision stunt driver, playing both 'Nicole' and 'Papa', for two Renault Clio commercials. Mallory is also a former television presenter; she co-hosted Channel 4's motoring programme Driven alongside Mike Brewer and Jason Plato, and Accident Black Spot. She also co-hosted with Jason Dawe on the Used Car Roadshow, which was originally broadcast on Men & Motors, now occasionally repeated on ITV4. She presented Classic Car Club for Discovery with Edd China, Tony Mason and Alex Riley. She also previously co-presented Channel 4's programme on the World Rally Championship (WRC) series, until it was taken over by ITV in 2004.
👉 Podcast Website: https://www.superpowers.school/
👉 YouTube: https://www.youtube.com/c/paddydhanda/
👉 Contact Paddy at: pardeep_dhanda (at) hotmail.com
★ BUY ME KO-FI ★
If you enjoy the podcast, then you can donate a small amount here as a token of your appreciation: https://ko-fi.com/paddydhanda
--- Send in a voice message: https://anchor.fm/superpowers-school/message