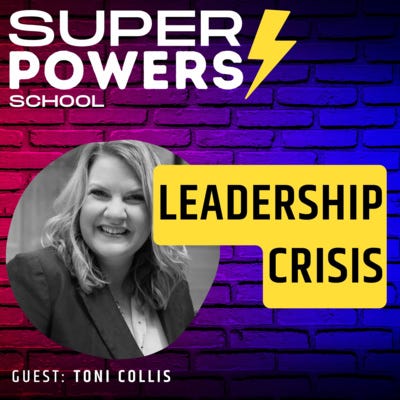 Sep 8, 2022 • 15M
E42: Leadership - Examining Our Leadership Crisis: Do We Have a Problem? - Toni Collis (Leadership Coach)
If knowledge is power, then learning is a superpower. Research shows the average professional invests just 1% (24 mins) of their time per week in formal learning. In each episode, I explore a new superpower to help you unleash your human potential in the age of AI. Join Paddy Dhanda for a regular dose of inspiration from successful entrepreneurs, thought leaders and practitioners to help you build your human skills for the future. Learn about empathy, collaboration, creativity, agility, productivity, leadership, coaching and many more…
In each episode, Paddy deep dives into a new human Superpower and practical advice on how you can apply it immediately.
⚡️ Examining Our Leadership Crisis: Do We Have a Problem
Leadership is an integral part of any organization, and it can make or break a successful business. But with so much uncertainty in the world today, it begs the question: do we have a leadership crisis? In this episode, leadership coach Toni Collis explores this question and offers insight into the state of leadership today. Join us to find out what the answer is and how to bridge the gap between good leadership and great leadership.
Toni Collis (Leadership Coach)
Toni Collis, Ph.D is the CEO of Collis-Holmes Innovations, a multi-award-winning leader and executive leadership coach, international keynote speaker, and consultant. Toni's career started in the field of Supercomputing and early on she focused on bringing the field of supercomputing to new users to facilitate discovery by expanding the reach of supercomputing as a solution tool. As Founder of Women in High Performance Computing (WHPC), Toni developed and led innovations aiming to diversify the international Supercomputing workforce, providing HPC tutorials designed for women, training and consultancy on building inclusive workforces, and research into how to improve the representation of women. In early 2019, Toni focused on her passion for broadening diversity & inclusion in the technology industry and now offers leadership & executive coaching for women in tech, with a personal goal of assisting 2000 women into the tech boardroom in the next 5 years. Toni is known for her authentic, real and energetic communication, teaching and coaching style. Toni is the creator of Lit Up Leadership Academy and the Shift To Thrive programs for women in tech.
Women from around the world follow Toni's teaching and coaching in her free Leading Women in Tech communities and by listening to her podcast "Leading Women in Tech".
👉 Podcast Website: https://www.superpowers.school/
👉 YouTube: https://www.youtube.com/c/paddydhanda/
👉 Contact Paddy at: pardeep_dhanda (at) hotmail.com
★ BUY ME KO-FI ★
If you enjoy the podcast, then you can donate a small amount here as a token of your appreciation: https://ko-fi.com/paddydhanda
--- Send in a voice message: https://anchor.fm/superpowers-school/message