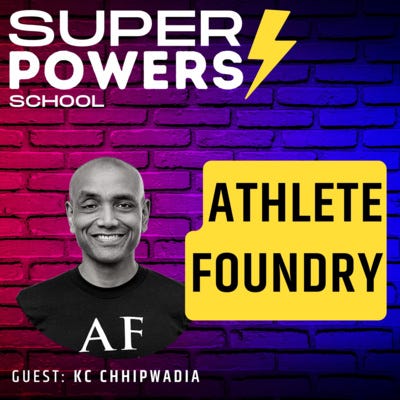 Apr 28, 2022 • 18M
E4: Entrepreneurship - How I Support College Athletes - KC Chhipwadia (NASA Engineer & Entrepreneur)
If knowledge is power, then learning is a superpower. Research shows the average professional invests just 1% (24 mins) of their time per week in formal learning. In each episode, I explore a new superpower to help you unleash your human potential in the age of AI. Join Paddy Dhanda for a regular dose of inspiration from successful entrepreneurs, thought leaders and practitioners to help you build your human skills for the future. Learn about empathy, collaboration, creativity, agility, productivity, leadership, coaching and many more…
In each episode, Paddy deep dives into a new human Superpower and practical advice on how you can apply it immediately.
⚡️ How I Support College Athletes
KC Chhipwadia (NASA Engineer & Entrepreneur)
KC is convinced deep to his core that the creation of Athlete Foundry was 20 years in the making, forged through his NASA and U.S. Navy life-changing events, challenges, and experiences, each uniquely preparing him to discover his life's true purpose ― to improve the odds and inspire others to seek and achieve their dreams by crushing inequities ― starting with student athletes. Before starting Athlete Foundry, KC has been privileged to serve our great Nation in two capacities, 20 years as a senior human space flight engineer at NASA Johnson Space Center, supporting over 50 Space Shuttle missions, including the Space Shuttle Columbia accident investigation, with his last post serving as the manager of the Space Shuttle astronaut launch & entry suit and crew escape system; and 20+ years, active & reserve combined, in our United States Navy as a Surface Warfare Officer, including deployments to Iraq looking for our missing-in-action, and Afghanistan with Naval Special Warfare. His hard-learned, life & death related missions throughout his extensive NASA and U.S. Navy careers have allowed him to build a wealth of knowledge and experience regarding building high-performing teams and mission-critical human and organizational performance from front-line, mid-level, and senior executive perspectives. After life changing deployments, KC discovered his much bigger purpose & passion, taking his combined NASA & Navy backgrounds to build a world-class team, products, and company to lift and positively impact pre-college student athletes & families across our great Nation, through a new lens, like never before.
👉 Podcast Website: https://www.superpowers.school/
👉 YouTube: https://www.youtube.com/c/paddydhanda/
👉 Contact Paddy at: pardeep_dhanda (at) hotmail.com
★ BUY ME KO-FI ★
If you enjoy the podcast, then you can donate a small amount here as a token of your appreciation: https://ko-fi.com/paddydhanda
--- Send in a voice message: https://anchor.fm/superpowers-school/message