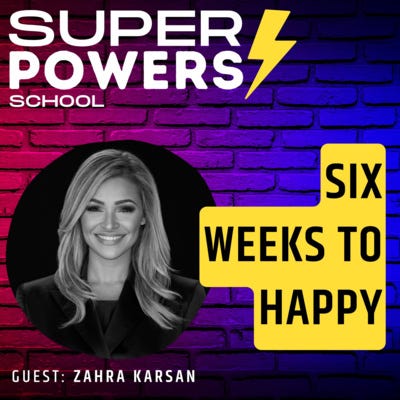 Aug 25, 2022 • 37M
E38: Self-Help - Take Control Of Your Life: 6 Weeks To Happy - Zahra Karsan (Author of Six Weeks To Happy)
If knowledge is power, then learning is a superpower. Research shows the average professional invests just 1% (24 mins) of their time per week in formal learning. In each episode, I explore a new superpower to help you unleash your human potential in the age of AI. Join Paddy Dhanda for a regular dose of inspiration from successful entrepreneurs, thought leaders and practitioners to help you build your human skills for the future. Learn about empathy, collaboration, creativity, agility, productivity, leadership, coaching and many more…
In each episode, Paddy deep dives into a new human Superpower and practical advice on how you can apply it immediately.
⚡️ Take Control Of Your Life: 6 Weeks To Happy
Are you looking for a new way to take control of your life and emotions? If so, then the book "Six Weeks To Happy" by Zahra Karsan may be the perfect starting point for you. In this episode we discuss this practical and powerful program that can help you start a journey to taking charge of your life, feeling happier, and living with more purpose. It provides a unique blend of positive psychology research, spiritual teachings, and practical strategies to help you move forward in your life and reach your goals. Whether you are looking to make a change in your career, relationships, or overall wellbeing, this episode will help you find your way to a happier and more meaningful life.
Zahra Karsan (Author of Six Weeks To Happy)
CEO of GetZENd (getzend.com), inspirational speaker and Success Coach to global C-level executives, announces her second book, "6 Weeks to Happy; The Ultimate Roadmap to Retrain Your Brain for Better Health, Greater Abundance, And Long Lasting Happiness." The book debuted at #1 on the Amazon and Barnes and Noble charts and recently hit #2 on The Wall Street Journal Bestseller List. This step-by-step guide will train you to rewire your brain, break the cycles of stress, anxiety, and depression, and improve your overall mental and emotional health.
👉 Podcast Website: https://www.superpowers.school/
👉 YouTube: https://www.youtube.com/c/paddydhanda/
👉 Contact Paddy at: pardeep_dhanda (at) hotmail.com
★ BUY ME KO-FI ★
If you enjoy the podcast, then you can donate a small amount here as a token of your appreciation: https://ko-fi.com/paddydhanda
--- Send in a voice message: https://anchor.fm/superpowers-school/message