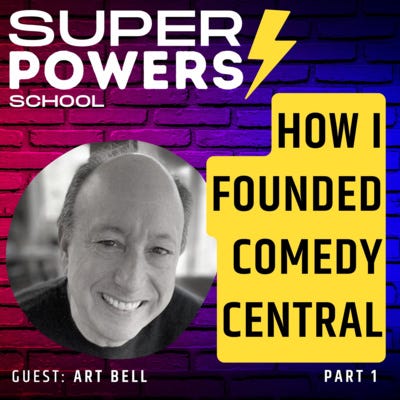 Jul 25, 2022 • 34M
E29: Entrepreneurship - From Dream to Reality: How I Founded Comedy Central and Lost My Sense of Humour - Art Bell (Author & Founder of Comedy Central...
If knowledge is power, then learning is a superpower. Research shows the average professional invests just 1% (24 mins) of their time per week in formal learning. In each episode, I explore a new superpower to help you unleash your human potential in the age of AI. Join Paddy Dhanda for a regular dose of inspiration from successful entrepreneurs, thought leaders and practitioners to help you build your human skills for the future. Learn about empathy, collaboration, creativity, agility, productivity, leadership, coaching and many more…
In each episode, Paddy deep dives into a new human Superpower and practical advice on how you can apply it immediately.
⚡️ From Dream to Reality: How I Founded Comedy Central and Lost My Sense of Humour
The Comedy Central channel is an ever-evolving platform for comedy, featuring some of the funniest, most innovative and boundary-pushing comedy from all over the world. At the forefront of this movement is Art Bell, the founder and author. With a unique vision and unique style, Art Bell tells his story of how he founded the channel and how it almost never happened at all.
Art Bell (Author & Founder of Comedy Central)
I was born on the Jersey Shore and grew up in a middle class household in the late 1950s and 1960s. My earliest ambitions were to become a famous scientist and to be funny. I worked hard at both through grade school, and the science aspiration got me A's but the funny aspiration got me kicked out of class for "cutting up." (If I'd been funnier the teachers wouldn't have kicked me out.) In high school I found a more productive outlet by starting an underground newspaper called "The Tongue" and writing biting satire about my teachers, fellow students, and high school life. Of course, that too got me in trouble. I was beginning to understand that funny and trouble seemed, at least in my case, interconnected.
College (I went to Swarthmore College) was a more sober undertaking, although I did hit the stage in annual comedy sketch shows and played Motel the Tailor in the college production of Fiddler on the Roof. I was sure that would be my last time on stage, but I was wrong.
After graduation I spent a few years in Washington DC as an economist working on energy and environmental projects for the federal government. While I enjoyed it, I found myself reading Coal Weekly one afternoon and saying to myself, "I'm not a Coal Weekly kind of guy." I quit my job and went to business school. Now I'm not saying I didn't get a good business education at Wharton Grad — I did — but for me the best part was writing and performing in the Wharton Follies, an annual musical revue put on by students.
Upon graduating, I got a job at CBS, then HBO, where I started the Comedy Channel that became Comedy Central. After that I was President of Court TV, then worked for a while as a consultant to a bunch of television companies. Most interesting project: commercializing 3D television. Least successful project: commercializing 3D television. Too bad. It was really cool.
After I left the TV business, I took some writing courses and found I loved writing. Constant Comedy is my first book, not counting a humor book I wrote with a couple other guys while at Comedy Central. I hope to write some more books, but hey, who knows? I play piano and drums and I'm married to Carrie Livingston Bell and have two grown children. And that's pretty much the story.
👉 Podcast Website: https://www.superpowers.school/
👉 YouTube: https://www.youtube.com/c/paddydhanda/
👉 Contact Paddy at: pardeep_dhanda (at) hotmail.com
★ BUY ME KO-FI ★
If you enjoy the podcast, then you can donate a small amount here as a token of your appreciation: https://ko-fi.com/paddydhanda
--- Send in a voice message: https://anchor.fm/superpowers-school/message