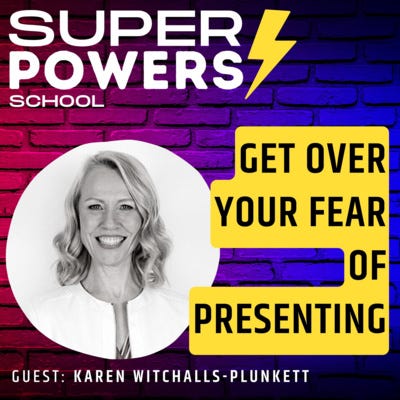 Jul 21, 2022 • 18M
E28: Presenting - Face Your Fear of Public Speaking and Learn to Present with Ease - Karen Witchalls Plunkett (TV Presenter & Entrepreneur)
If knowledge is power, then learning is a superpower. Research shows the average professional invests just 1% (24 mins) of their time per week in formal learning. In each episode, I explore a new superpower to help you unleash your human potential in the age of AI. Join Paddy Dhanda for a regular dose of inspiration from successful entrepreneurs, thought leaders and practitioners to help you build your human skills for the future. Learn about empathy, collaboration, creativity, agility, productivity, leadership, coaching and many more…
In each episode, Paddy deep dives into a new human Superpower and practical advice on how you can apply it immediately.
⚡️ Face Your Fear of Public Speaking and Learn to Present with Ease
Do you dread having to present in front of a crowd? Are you worried about the judgement of your peers or the possibility of embarrassing yourself in front of a large audience? If so, you're not alone. But fear not! Karen Witchalls Plunkett, an experienced TV presenter and entrepreneur, share her biggest tips that can help you overcome your fear and become a confident and successful public speaker. In this episode you'll learn techniques to help you banish your fear of presenting and take your communication to the next level.
Karen Witchalls Plunkett (TV Presenter & Entrepreneur)
I have over 25 years of experience in broadcast journalism, presenting and public speaking, having worked across TV, theatre and live events.
I present extensively for corporate clients both in the UK and internationally at conferences, this includes facilitating at events, product launches and on screen for clients including Marks & Spencer, GSK and Peugeot. See my blog for the latest case studies.
Alongside Businesses On Screen, I run a presenter talent agency called Perfect Match Presenters, helping match experienced presenters with a wide variety of presenting and voice over jobs on TV, radio, online and live events.
👉 Podcast Website: https://www.superpowers.school/
👉 YouTube: https://www.youtube.com/c/paddydhanda/
👉 Contact Paddy at: pardeep_dhanda (at) hotmail.com
★ BUY ME KO-FI ★
If you enjoy the podcast, then you can donate a small amount here as a token of your appreciation: https://ko-fi.com/paddydhanda
--- Send in a voice message: https://anchor.fm/superpowers-school/message