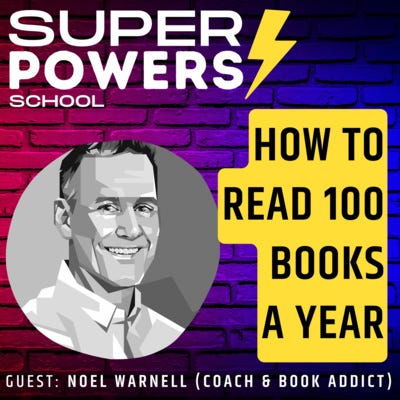 Jul 19, 2022 • 34M
E27: Productivity - Challenge Yourself: Learn How to Read 100 Books in a Year! - Noel Warnell (Agile Coach & Book Addict)
If knowledge is power, then learning is a superpower. Research shows the average professional invests just 1% (24 mins) of their time per week in formal learning. In each episode, I explore a new superpower to help you unleash your human potential in the age of AI. Join Paddy Dhanda for a regular dose of inspiration from successful entrepreneurs, thought leaders and practitioners to help you build your human skills for the future. Learn about empathy, collaboration, creativity, agility, productivity, leadership, coaching and many more…
In each episode, Paddy deep dives into a new human Superpower and practical advice on how you can apply it immediately.
⚡️ Challenge Yourself: Learn How to Read 100 Books in a Year!
Are you an avid reader looking for ways to level up your reading game? Reading more books can be an intimidating goal, but with the right plan, it doesn't have to be. With the help of Agile Coach and Book Addict Noel Warnell, you can learn how to read 100 books a year. In this episode, Noel shares his strategies and insights on how to read more books and become a voracious reader. Get ready to become a reading machine and get to know the tricks of the trade to reach your reading goals.
Noel Warnell (Agile Coach & Book Addict)
I'm a multi-passionate, creative, energetic and enthusiastic human with over 20 years experience of software product delivery, 12 of them working with leaders and agile teams. My name is Noel, and I'm also an addict. A book addict.
👉 Podcast Website: https://www.superpowers.school/
👉 YouTube: https://www.youtube.com/c/paddydhanda/
👉 Contact Paddy at: pardeep_dhanda (at) hotmail.com
★ BUY ME KO-FI ★
If you enjoy the podcast, then you can donate a small amount here as a token of your appreciation: https://ko-fi.com/paddydhanda
--- Send in a voice message: https://anchor.fm/superpowers-school/message