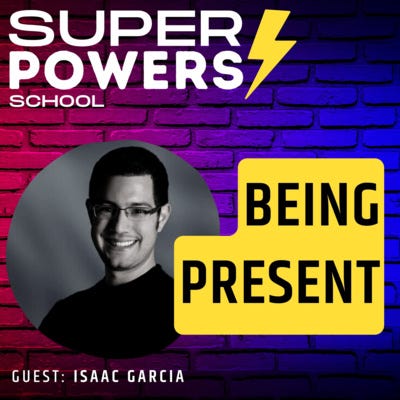 Jul 14, 2022 • 12M
E26: Coaching - Staying in the Moment: The Benefits of Being Present - Isaac Garcia (Agile Coach)
If knowledge is power, then learning is a superpower. Research shows the average professional invests just 1% (24 mins) of their time per week in formal learning. In each episode, I explore a new superpower to help you unleash your human potential in the age of AI. Join Paddy Dhanda for a regular dose of inspiration from successful entrepreneurs, thought leaders and practitioners to help you build your human skills for the future. Learn about empathy, collaboration, creativity, agility, productivity, leadership, coaching and many more…
In each episode, Paddy deep dives into a new human Superpower and practical advice on how you can apply it immediately.
⚡️ Staying in the Moment: The Benefits of Being Present
Being present is essential for success in life. It is the foundation upon which we can build meaningful relationships and achieve our goals. It allows us to be more aware and open to opportunities. It also helps us to be more mindful and focused during our daily activities. In this episode, Isaac Garcia, Agile Coach, provides us with an insightful exploration into the importance of being present and the positive impacts it can have on our lives.
Isaac Garcia (Agile Coach)
After spending the early years of this career as a professional volunteer and software developer, Isaac discovered his true passion in 2015 when he was introduced to the scrum framework. He loved and resonated with the values and soon was completely invested in sharing agile ideas. Since that time, Isaac has served numerous teams as Scrum Master and later served several enterprise organizations as an agile and transformation coach. He also has been involved in the agile community as a founding member of the virtual agile meetup Coaching Agile Journeys. CAJ has interviewed over 60 world class coaches and hosted numerous monthly lean coffee events for agilists. Currently, Isaac is working as an Agile Coach, community builder, and passionate Retrospective Evangelist. He is also active in the community as a coach, event facilitator, and speaker.
👉 Podcast Website: https://www.superpowers.school/
👉 YouTube: https://www.youtube.com/c/paddydhanda/
👉 Contact Paddy at: pardeep_dhanda (at) hotmail.com
★ BUY ME KO-FI ★
If you enjoy the podcast, then you can donate a small amount here as a token of your appreciation: https://ko-fi.com/paddydhanda
--- Send in a voice message: https://anchor.fm/superpowers-school/message