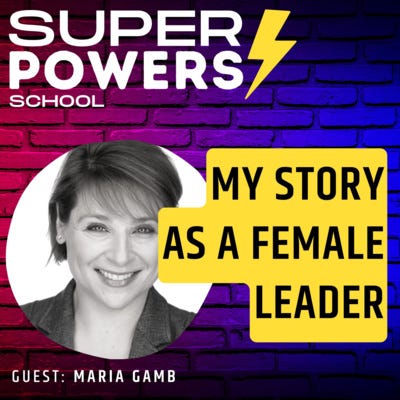 Jul 5, 2022 • 21M
E23: Leadership - Journey Of A Female Leader - Maria Gamb (Author of Value Based Leadership For Dummies)
If knowledge is power, then learning is a superpower. Research shows the average professional invests just 1% (24 mins) of their time per week in formal learning. In each episode, I explore a new superpower to help you unleash your human potential in the age of AI. Join Paddy Dhanda for a regular dose of inspiration from successful entrepreneurs, thought leaders and practitioners to help you build your human skills for the future. Learn about empathy, collaboration, creativity, agility, productivity, leadership, coaching and many more…
In each episode, Paddy deep dives into a new human Superpower and practical advice on how you can apply it immediately.
⚡️ Journey Of A Female Leader
Meet Maria Gamb, an inspirational leader and author of the best-selling book Value Based Leadership For Dummies. Maria's journey to becoming a leader and the lessons she has learned along the way are both remarkable and inspiring. From her experience of starting her own business to the struggles she's faced as a female leader, Maria's story is an invaluable source of wisdom for anyone wanting to improve their leadership skills or reach their goals. Join us as we take an in-depth look at the journey of Maria Gamb and the impact she has made in her field.
Maria Gamb (Author of Value Based Leadership For Dummies)
Is the Founder and CEO of the Coaching and Training company NMS Communications. As a former Fortune 500 executive in Corporate America, she directed successful businesses valued at more than $110 million. Her global experience led her to write the Amazon best-selling book "Healing the Corporate World". Plus 3 more books; "Values-Based Leadership for Dummies™," "Resiliency Journal," and "Gratitude Journal." She is dedicated to helping busy professionals align their life and leadership impact. Maria's unique perspective on the inner game of leadership coupled with Values-Based Leadership skills makes her unique. Maria has coached executives from Oppenheimer Funds, Capital One, Kronos Incorporated, JAG Australia, and the Jamaican Government Cabinet. She has been a Speaker at Astra Zeneca, Mid-Atlantic Permanente, MHA, Women in Leadership & Business and Women's MBA International. Her credits include Inc Magazine, Time Magazine, Wall Street Radio Network, the Women's Media outlet, and a column at ForbesWomen. Books written by Maria Gamb can be found here; https://amzn.to/3on2IS6FREE Downloads: "Anatomy of the Great Reset": https://mariagamb.podia.com/anatomy-of-the-great-reset-free-special-report"The Daily Set Point": https://mariagamb.podia.com/learn-4-strategies-to-create-a-powerful-daily-practice
👉 Podcast Website: https://www.superpowers.school/
👉 YouTube: https://www.youtube.com/c/paddydhanda/
👉 Contact Paddy at: pardeep_dhanda (at) hotmail.com
★ BUY ME KO-FI ★
If you enjoy the podcast, then you can donate a small amount here as a token of your appreciation: https://ko-fi.com/paddydhanda
--- Send in a voice message: https://anchor.fm/superpowers-school/message