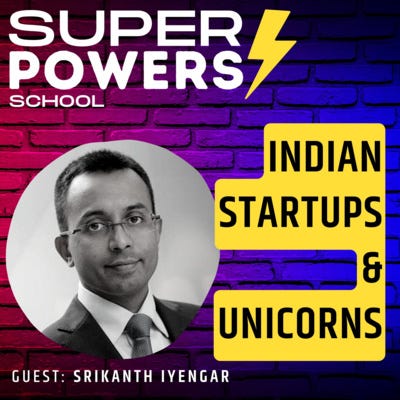 Jun 30, 2022 • 24M
E22: Entrepreneurship - Uncovering the Latest Trends in Indian Technology Startups and Unicorns - Srikanth Iyengar (Technology Executive)
If knowledge is power, then learning is a superpower. Research shows the average professional invests just 1% (24 mins) of their time per week in formal learning. In each episode, I explore a new superpower to help you unleash your human potential in the age of AI. Join Paddy Dhanda for a regular dose of inspiration from successful entrepreneurs, thought leaders and practitioners to help you build your human skills for the future. Learn about empathy, collaboration, creativity, agility, productivity, leadership, coaching and many more…
In each episode, Paddy deep dives into a new human Superpower and practical advice on how you can apply it immediately.
⚡️ Uncovering the Latest Trends in Indian Technology Startups and Unicorns
As India continues its rapid ascent as a global tech superpower, the country is also becoming a force to be reckoned with in the startup and unicorn landscape. In the past few years, there has been a tremendous growth in the number of tech startups and unicorns in India. From e-commerce giants such as Flipkart and Paytm to software-as-a-service (SaaS) providers such as Zoho, Indian tech startups and unicorns are disrupting traditional business models and creating new opportunities for entrepreneurs and investors. In this episode, we'll explore the current trends in the Indian technology startup and unicorn landscape, and what the future may hold.
Srikanth Iyengar (Technology Executive)
Srikanth was most recently the Chief Client Officer of QA, the U.K. market leader in tech training. In this role, he oversaw all sales relationships with QA customers globally, with a particular focus on larger and international clients. Prior to QA, he was the Group Chief Executive – Europe at Conduent, a global outsourcing company, driving their vision to become a digital interactions leader in Europe. He has previously been the Group Sales Officer and a Member of the Group Executive Committee at Capgemini, where he had direct oversight of Capgemini's strategic global accounts, with annual revenues in excess of 2 billion Euros. He was also a member of Capgemini's Innovation Exchange Steering Committee. Srikanth has previously been at IGATE, where he co-led the merger of IGATE with Capgemini, and at Infosys, where he was Regional Head of Europe for Financial Services and Head of Infosys UK. Srikanth is also an active investor in early stage startups, particularly in the enterprise B2B SAAS area.
👉 Podcast Website: https://www.superpowers.school/
👉 YouTube: https://www.youtube.com/c/paddydhanda/
👉 Contact Paddy at: pardeep_dhanda (at) hotmail.com
★ BUY ME KO-FI ★
If you enjoy the podcast, then you can donate a small amount here as a token of your appreciation: https://ko-fi.com/paddydhanda
--- Send in a voice message: https://anchor.fm/superpowers-school/message