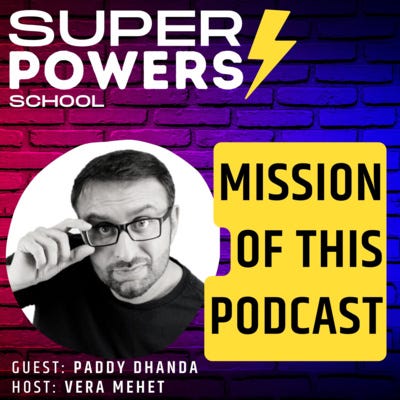 Apr 21, 2022 • 30M
E2: The Mission Of The Superpowers School Podcast - Paddy Dhanda (Podcast Host & Productivity Coach)
If knowledge is power, then learning is a superpower. Research shows the average professional invests just 1% (24 mins) of their time per week in formal learning. In each episode, I explore a new superpower to help you unleash your human potential in the age of AI. Join Paddy Dhanda for a regular dose of inspiration from successful entrepreneurs, thought leaders and practitioners to help you build your human skills for the future. Learn about empathy, collaboration, creativity, agility, productivity, leadership, coaching and many more…
In each episode, Paddy deep dives into a new human Superpower and practical advice on how you can apply it immediately.
⚡️ The Mission Of The Superpowers School Podcast
The greatest product is you... but how do you ensure your skills stay relevant in the fast paced world we live in? Research shows that the average professional invests just 1% (24 mins) of their time per week in formal learning. With the world becoming more automated, does this mean humans will become obsolete in the future?
If knowledge is power, then learning is a superpower. And that is the purpose of this podcast. To provide the listeners with a regular dose of inspiration to ensure we continue to learn and stay relevant.
Paddy Dhanda (Podcast Host & Productivity Coach)
Paddy is passionate about helping people build better human skills to be more productive and thrive in today's fast paced world. He graduated from the worst performing High School in the UK. He has gone on to advise CEO's and Executives on effective innovation strategies to some of the biggest brands on the planet, as well as guest lecturer at the University of Birmingham MBA programme.
Paddy is currently the Agile Practice Director at the UK's largest tech training organisation and is the former Head of Agile Learning for a global investment bank, where he rolled out Agile education to over 100k agilists. He is also passionate about Visual Thinking and creativity and co-founder of the one of the largest Visual Thinking Meetup communities (The Visual Jam) in the world.
And now he is about to write his next chapter, the launch of the Superpowers School Podcast…
👉 Podcast Website: https://www.superpowers.school/
👉 YouTube: https://www.youtube.com/c/paddydhanda/
👉 Contact Paddy at: pardeep_dhanda (at) hotmail.com
★ BUY ME KO-FI ★
If you enjoy the podcast, then you can donate a small amount here as a token of your appreciation: https://ko-fi.com/paddydhanda
--- Send in a voice message: https://anchor.fm/superpowers-school/message