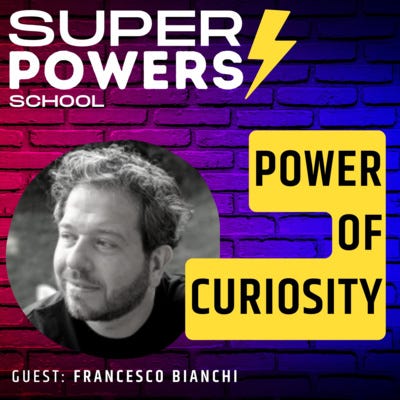 Jun 2, 2022 • 31M
E14: Agile - Spark Creativity and Innovation Through Curiosity in the Workplace - Francesco Bianchi (Agile Coach)
If knowledge is power, then learning is a superpower. Research shows the average professional invests just 1% (24 mins) of their time per week in formal learning. In each episode, I explore a new superpower to help you unleash your human potential in the age of AI. Join Paddy Dhanda for a regular dose of inspiration from successful entrepreneurs, thought leaders and practitioners to help you build your human skills for the future. Learn about empathy, collaboration, creativity, agility, productivity, leadership, coaching and many more…
In each episode, Paddy deep dives into a new human Superpower and practical advice on how you can apply it immediately.
⚡️ Spark Creativity and Innovation Through Curiosity in the Workplace
In today's rapidly changing world, curiosity is an invaluable asset. It can help us to identify emerging trends, challenge our existing assumptions, and develop creative solutions to complex problems. For Agile Coaches, curiosity is particularly important as it helps us to facilitate change and drive sustainable growth. Francesco Bianchi, an experienced Agile Coach, is here to discuss the importance of curiosity and why it should be embraced by all. Discover why curiosity can be the key to unlocking success, no matter the context.
Francesco Bianchi (Agile Coach)
Francesco is a Visual Coach on a mission to improve work from multiple angles, starting from the dimension of Fun. He loves bringing people together and experiencing the magic of collaboration unfolding spontaneously. He's a passionate learner who constantly explores new techniques to inspire and motivate the groups he works with.
👉 Podcast Website: https://www.superpowers.school/
👉 YouTube: https://www.youtube.com/c/paddydhanda/
👉 Contact Paddy at: pardeep_dhanda (at) hotmail.com
★ BUY ME KO-FI ★
If you enjoy the podcast, then you can donate a small amount here as a token of your appreciation: https://ko-fi.com/paddydhanda
--- Send in a voice message: https://anchor.fm/superpowers-school/message