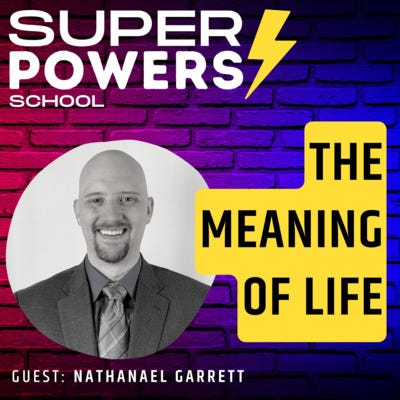 May 31, 2022 • 48M
E13: Philosophy - Seeking Clarity on the Meaning of Life Through Philosophy - Nathanael Garrett (Author of The Meaning of Life)
If knowledge is power, then learning is a superpower. Research shows the average professional invests just 1% (24 mins) of their time per week in formal learning. In each episode, I explore a new superpower to help you unleash your human potential in the age of AI. Join Paddy Dhanda for a regular dose of inspiration from successful entrepreneurs, thought leaders and practitioners to help you build your human skills for the future. Learn about empathy, collaboration, creativity, agility, productivity, leadership, coaching and many more…
In each episode, Paddy deep dives into a new human Superpower and practical advice on how you can apply it immediately.
⚡️ Seeking Clarity on the Meaning of Life Through Philosophy
Have you ever pondered the meaning of life? What is the purpose of our existence? These are questions that have challenged philosophers and thinkers for millennia. Nathanael Garrett, author of The Meaning of Life Philosophy, offers a unique perspective on life and its meaning. In this episode, we will explore Garrett's philosophical views on life, its purpose and value, and how they can be applied to our own lives.
Nathanael Garrett (Author of The Meaning of Life)
Is a professional researcher and advisor with over 20 years of experience studying individual and group behavior. Over that time, he has researched psychology, evolutionary biology, organizational best practices, leadership decision making, business, technology, finance, and philosophy to understand how the world as we know it works and why. Nathanael spent much of his career using the insights from this research to help the world's leading executives solve their most pressing organizational challenges and create their strategic plans. Noticing the common drivers of success in all areas of life, he decided to devote his research, problem-solving, and advisory skills to helping people live the best lives possible.
👉 Podcast Website: https://www.superpowers.school/
👉 YouTube: https://www.youtube.com/c/paddydhanda/
👉 Contact Paddy at: pardeep_dhanda (at) hotmail.com
★ BUY ME KO-FI ★
If you enjoy the podcast, then you can donate a small amount here as a token of your appreciation: https://ko-fi.com/paddydhanda
--- Send in a voice message: https://anchor.fm/superpowers-school/message