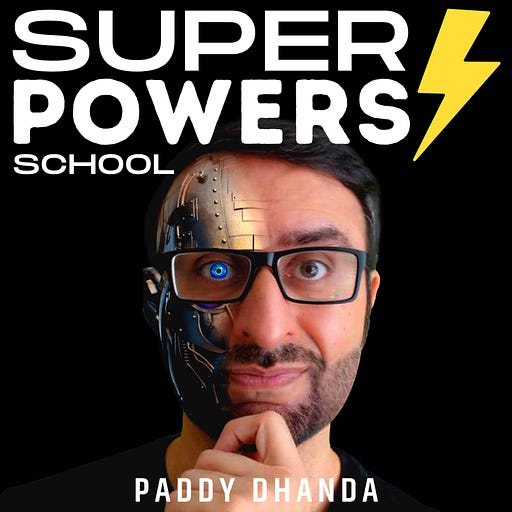 Mar 2 • 35M
BONUS: Self-Help - Teen Prodigy Author: 12 Books Published and 50,000 TikTok Followers - Shanti Hershenson (Teen Author)
If knowledge is power, then learning is a superpower. Research shows the average professional invests just 1% (24 mins) of their time per week in formal learning. In each episode, I explore a new superpower to help you unleash your human potential in the age of AI. Join Paddy Dhanda for a regular dose of inspiration from successful entrepreneurs, thought leaders and practitioners to help you build your human skills for the future. Learn about empathy, collaboration, creativity, agility, productivity, leadership, coaching and many more…
In each episode, Paddy Dhanda deep dives into a new human Superpower and practical advice on how you can apply it immediately.
⚡️ Teen Prodigy Author: 12 Books Published and 50,000 TikTok Followers
At just 15 years old, Shanti Hershenson is a force to be reckoned with. A self-taught author with twelve books published, an impressive 50,000 followers on TikTok, and a mission to empower and inspire others, Shanti has made an indelible mark on the literary world as a teen prodigy. In this episode, we take a closer look at Shanti's incredible journey and accomplishments.
Shanti Hershenson
She is your average fifteen-year-old in every way other than the myriad of books she has penned. On most days, you can find her in her room writing her next novel, likely cuddled up with her cats. When she isn't writing, she is fangirling over whatever book she is currently reading, or freaking out over the latest enemies-to-lovers ship that everyone is obsessed with. She lives in Southern California with her sister, two cats, and parents. She is a freshman in high school.
👉 Podcast Website: https://www.superpowers.school/
👉 YouTube: https://www.youtube.com/c/paddydhanda//
👉 Contact Paddy at: pardeep_dhanda (at) hotmail.com
★ BUY ME KO-FI ★
If you enjoy the podcast, then you can donate a small amount here as a token of your appreciation: https://ko-fi.com/paddydhanda
--- Send in a voice message: https://anchor.fm/superpowers-school/message