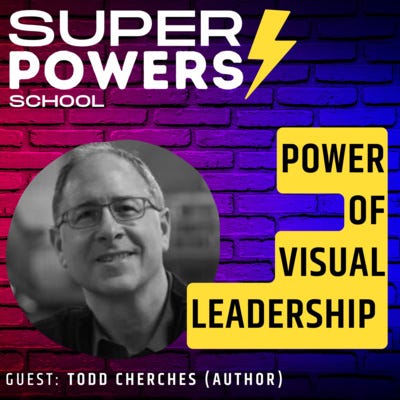 Aug 26, 2022 • 38M
BONUS E4: Creativity - Learn How Visual Leadership Can Transform Your Organisation - Todd Cherches (Author)
If knowledge is power, then learning is a superpower. Research shows the average professional invests just 1% (24 mins) of their time per week in formal learning. In each episode, I explore a new superpower to help you unleash your human potential in the age of AI. Join Paddy Dhanda for a regular dose of inspiration from successful entrepreneurs, thought leaders and practitioners to help you build your human skills for the future. Learn about empathy, collaboration, creativity, agility, productivity, leadership, coaching and many more…
In each episode, Paddy deep dives into a new human Superpower and practical advice on how you can apply it immediately.
⚡️ Learn How Visual Leadership Can Transform Your Organization
Visual leadership is a powerful tool to achieve success in business. It is a novel approach to communication, collaboration, and problem solving. Todd Cherches, author of the book Visual Leadership, provides insight into how to maximize the potential of visual leadership and how to use it to drive positive change in any organization. He introduces a number of models and practical advice to show the power of visual leadership and how to apply it.
Todd Cherches
Is CEO and cofounder of BigBlueGumball, a NYC-based management consulting firm specializing in leadership development and executive coaching. He is a member of Marshall Goldsmith's "MG 100 Coaches," a three-time award-winning adjunct professor of leadership at NYU, a lecturer on leadership at Columbia University, a TEDx speaker, and the author of the groundbreaking book, "VisuaLeadership: Leveraging the Power of Visual Thinking in Leadership and in Life" (Post Hill Press/Simon & Schuster, 2020). Todd was nominated as one of eight global finalists for the 2021 Thinkers50 "Distinguished Achievement Award" in Leadership, and is currently ranked #35 on the Thinkers360 list of the Top 50 Global Thought Leaders and Influencers in the field of Management, and #17 in "Design Thinking."
👉 Podcast Website: https://www.superpowers.school/
👉 YouTube: https://www.youtube.com/c/paddydhanda/
👉 Contact Paddy at: pardeep_dhanda (at) hotmail.com
★ BUY ME KO-FI ★
If you enjoy the podcast, then you can donate a small amount here as a token of your appreciation: https://ko-fi.com/paddydhanda
--- Send in a voice message: https://anchor.fm/superpowers-school/message