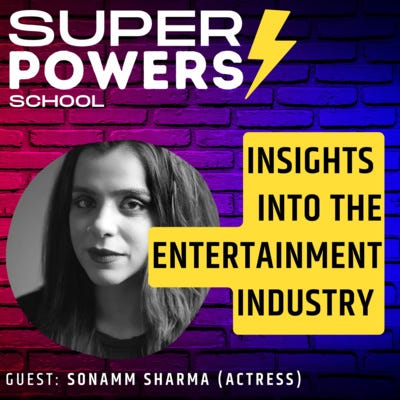 Aug 24, 2022 • 31M
BONUS E3: Entertainment - Get an Inside Look at the Entertainment Industry - Sonamm Sharma (Actress / Entrepreneur)
If knowledge is power, then learning is a superpower. Research shows the average professional invests just 1% (24 mins) of their time per week in formal learning. In each episode, I explore a new superpower to help you unleash your human potential in the age of AI. Join Paddy Dhanda for a regular dose of inspiration from successful entrepreneurs, thought leaders and practitioners to help you build your human skills for the future. Learn about empathy, collaboration, creativity, agility, productivity, leadership, coaching and many more…
In each episode, Paddy deep dives into a new human Superpower and practical advice on how you can apply it immediately.
⚡️ Get an Inside Look at the Entertainment Industry
The entertainment industry has long been a source of inspiration for aspiring actors, musicians, and creators. From the bright lights of Hollywood to the music stages of Nashville, the entertainment industry has provided a platform for those who have the talent and the drive to make their dreams come true. But what does it take to make it in this fast-paced, ever-changing industry? Sonamm Sharma, an experienced entertainment professional, is here to provide us with an insight into the entertainment industry. Join us as we explore the journey, the highs and lows, and the key to success in the entertainment industry.
Sonamm Sharma (Actress / Entrepreneur)
Sonamm Sharma or Zaffarah is a versatile and multi-talented artist with years of experience in numerous creative fields, ranging from modelling to acting, from writing to music, from graphic design to art. Sonam has worked with the likes of National Geographic, World Book of Beauties (Canada), Singapore Tourism (Sentosa), Brazilian Teenage Mag 'Bliss', Top shop, Debenhams, a Scottish Educational Campaign, NDTV Prime, BSNL, Nissan Datsun, UNICEF, Canon India etc.. Sonam is also a theatre artiste (English plays primarily) currently based in New Delhi, India. She has been working as an actor for stage and camera for over 10 years now. Apart from plays & award winning short films, she has appeared on a TV show called 'airlines' on star plus, webseries called 'BAKED', ads, web videos (Scoopwhoop) & music videos. She has also worked in two Nollywood films, a web series called Made in Heaven directed by Zoya Akhtar for Amazon Prime, international short films and is also in the process of working on more international projects this year. Apart from acting, Sonam works as a Brand Architect and a Marketing Consultant to a range of businesses in India as also internationally. She offers a portfolio of skills given her background in Advertising and Marcom, and education in Design & I.T. from England and English Literature from Delhi University, India. Specialising in Creative Marketing/ Social Media Strategy, Copy writing, and Branding/ Personal Branding, Sonam has made noteworthy contributions in many Brand Building/ Brand Management/ ORM/ Digital Marketing Activations for companies like Microsoft, EMC, Apollo Tyres etc. apart from working closely with Hospitality, Fashion, Film & Lifestyle Industries. Sonam is the recipient of the Asdan Youth Achievement Award (Gold) for her creative contribution with a Yorkshire based charity (2008, UK). She was lauded internationally for her creative writing skills in the British Vogue Young Writers' Contest (2008) and won multiple academic bursaries to further her creative ambitions in the UK. She is a certified learning facilitator for the differently-abled (from the UK) and was also one of the 20 women handpicked from India (2016) to be acknowledged for her contribution toward women empowerment (using performance arts as a medium) at the prestigious 'Women in the World' summit held in association with New York Times.
👉 Podcast Website: https://www.superpowers.school/
👉 YouTube: https://www.youtube.com/c/paddydhanda/
👉 Contact Paddy at: pardeep_dhanda (at) hotmail.com
★ BUY ME KO-FI ★
If you enjoy the podcast, then you can donate a small amount here as a token of your appreciation: https://ko-fi.com/paddydhanda
--- Send in a voice message: https://anchor.fm/superpowers-school/message