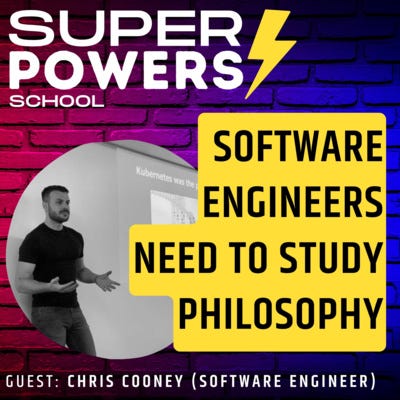 Sep 1, 2022 • 22M
E40: Technology - Learn How Philosophy Can Improve Your Software Engineering Skills - Chris Cooney (Software Engineer)
If knowledge is power, then learning is a superpower. Research shows the average professional invests just 1% (24 mins) of their time per week in formal learning. In each episode, I explore a new superpower to help you unleash your human potential in the age of AI. Join Paddy Dhanda for a regular dose of inspiration from successful entrepreneurs, thought leaders and practitioners to help you build your human skills for the future. Learn about empathy, collaboration, creativity, agility, productivity, leadership, coaching and many more…
In each episode, Paddy deep dives into a new human Superpower and practical advice on how you can apply it immediately.
⚡️ Learn How Philosophy Can Improve Your Software Engineering Skills
BAs technology continues to shape our lives, software engineers must consider the implications of their work on society and culture. Investigating philosophical concepts can help software engineers think more deeply about the implications of their work and make better decisions when developing software. In this episode, Chris Cooney, a software engineer, explores why software engineers need to study philosophy.
Chris Cooney (Software Engineer)
Chris is a software engineer and developer advocate who enjoys learning about a broad range of topics.
👉 Podcast Website: https://www.superpowers.school/
👉 YouTube: https://www.youtube.com/c/paddydhanda/
👉 Contact Paddy at: pardeep_dhanda (at) hotmail.com
★ BUY ME KO-FI ★
If you enjoy the podcast, then you can donate a small amount here as a token of your appreciation: https://ko-fi.com/paddydhanda
--- Send in a voice message: https://anchor.fm/superpowers-school/message