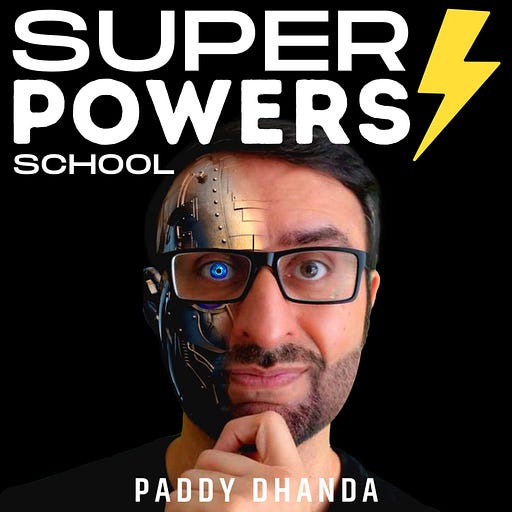 Mar 28 • 34M
E86: Presentation - Blue Man Group Shares Tips on Enhancing Engagement at Google - Don Colliver (Former Blue Man Group Member)
If knowledge is power, then learning is a superpower. Research shows the average professional invests just 1% (24 mins) of their time per week in formal learning. In each episode, I explore a new superpower to help you unleash your human potential in the age of AI. Join Paddy Dhanda for a regular dose of inspiration from successful entrepreneurs, thought leaders and practitioners to help you build your human skills for the future. Learn about empathy, collaboration, creativity, agility, productivity, leadership, coaching and many more…
In each episode, Paddy Dhanda deep dives into a new human Superpower and practical advice on how you can apply it immediately.
⚡️ Blue Man Group Shares Tips on Enhancing Engagement at Google
The Blue Man Group is a unique performance art company that has been entertaining audiences around the world for decades. From silent comedy to musical performances, the group has become an icon in the entertainment industry. In this episode, Don Colliver (former Blue Man Group performer) shares how he has been sharing his tips to increase engagement at Google through creative approaches.
Don Colliver (Former Blue Man Group Member)
Don Colliver teaches popular public speaking courses internally at Google and around the world, and writes and speaks for Fortune 500 companies including Adobe, Cisco, and Medtronic. Don has performed with the Blue Man Group and toured internationally as a theatrical Clown. He recently released a #1 bestselling book entitled "Wink: Transforming Public Speaking with Clown Presence" to help communicators profoundly impact their audiences through the power of authenticity, listening, and play: the Secrets of Clown!
Website: https://www.winkpublicspeaking.com/
LinkedIn: https://www.linkedin.com/in/doncolliver/
Facebook: https://www.facebook.com/doncolliver 
Instagram: https://www.instagram.com/doncolliver/
Twitter: https://twitter.com/doncolliver
👉 Podcast Website: https://www.superpowers.school/
👉 YouTube: https://www.youtube.com/c/paddydhanda//
👉 Contact Paddy at: pardeep_dhanda (at) hotmail.com

★ BUY ME KO-FI ★
If you enjoy the podcast, then you can donate a small amount here as a token of your appreciation: https://ko-fi.com/paddydhanda