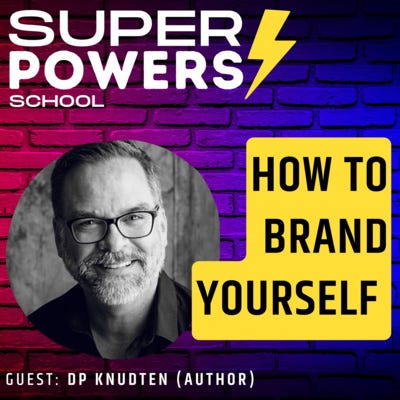 Jan 17 • 49M
E76: Self-Help - NONFICTION BRAND — Discover, Craft And Communicate The 'Completely True / Completely You' Brand You Already Are - DP Knudten (Author)
If knowledge is power, then learning is a superpower. Research shows the average professional invests just 1% (24 mins) of their time per week in formal learning. In each episode, I explore a new superpower to help you unleash your human potential in the age of AI. Join Paddy Dhanda for a regular dose of inspiration from successful entrepreneurs, thought leaders and practitioners to help you build your human skills for the future. Learn about empathy, collaboration, creativity, agility, productivity, leadership, coaching and many more…
In each episode, Paddy deep dives into a new human Superpower and practical advice on how you can apply it immediately.
⚡️ NONFICTION BRAND
Do you want to stand out in the crowd and make a lasting impression? Personal branding is the key to making this happen. With the right strategies and tactics, you can create an image for yourself that resonates with your audience and helps you to achieve your goals. In this blog, we will discuss the top personal branding tips to help you get started.
DP Knudten (Author)
DP Knudten, Chief Collaborator, COLLABORATOR creative DP's worked on some of the biggest brands in the business including Coca-Cola®, The Athlete's Foot®, and ClosetMaid® during tenures at DDB Needham (Chicago), McCann Erickson (Atlanta) and creative shops in Denver, Sarasota, and Madison, WI. He is the author of NONFICTION BRAND—Discover, craft and communicate the 'completely true / completely you' brand you already are," and co-author of ROTOMA—The ROI of Social Media 'Top of Mind/' and the creator-host of the popular podcasts, The ROTOMA Podcast and NONFICTION BRAND. He is also a keynote speaker and clinician in branding, social media, creativity and culture for groups throughout the United States.
👉 Podcast Website: https://www.superpowers.school/
👉 YouTube: https://www.youtube.com/c/paddydhanda/
👉 Contact Paddy at: pardeep_dhanda (at) hotmail.com
★ BUY ME KO-FI ★
If you enjoy the podcast, then you can donate a small amount here as a token of your appreciation: https://ko-fi.com/paddydhanda
--- Send in a voice message: https://anchor.fm/superpowers-school/message