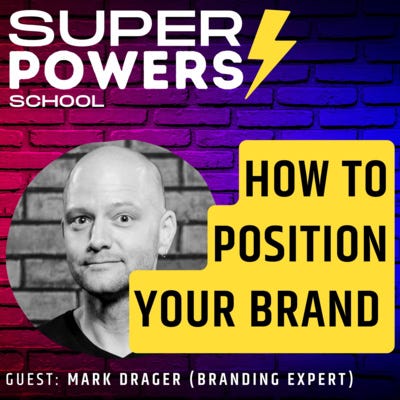 Dec 13, 2022 • 58M
E69: Self-Help - Position Your Brand for Success: Learn How to Strategise and Achieve Your Goals - Mark Drager (Branding Expert)
If knowledge is power, then learning is a superpower. Research shows the average professional invests just 1% (24 mins) of their time per week in formal learning. In each episode, I explore a new superpower to help you unleash your human potential in the age of AI. Join Paddy Dhanda for a regular dose of inspiration from successful entrepreneurs, thought leaders and practitioners to help you build your human skills for the future. Learn about empathy, collaboration, creativity, agility, productivity, leadership, coaching and many more…
In each episode, Paddy deep dives into a new human Superpower and practical advice on how you can apply it immediately.
⚡️ Positioning your brand is one of the most important steps you can take when launching a new business or product. Your brand is the public face of your company and it's essential to create a strong identity that stands out from the competition. In this episode, we look at the key elements of successful brand positioning and how to use them to gain an edge in the market. Whether you're a startup or an established business, understanding how to position your brand is essential for creating a successful and lasting impression.
Mark Drager
Mark founded his creative production company in 2006, grew it to a little over $2mm in annual revenue, and then slowly watched as it all crumbled around him. Through the hard lessons learned and working to not make the same mistakes twice, today Phanta Media focuses less on growth and "keeping the machine fed" and more on doing extraordinary work with really cool people. As a brand strategist, Mark also understands the need to be courageous and has developed a killer process that can help you make your next courageous move.
👉 Podcast Website: https://www.superpowers.school/
👉 YouTube: https://www.youtube.com/c/paddydhanda/
👉 Contact Paddy at: pardeep_dhanda (at) hotmail.com
★ BUY ME KO-FI ★
If you enjoy the podcast, then you can donate a small amount here as a token of your appreciation: https://ko-fi.com/paddydhanda
--- Send in a voice message: https://anchor.fm/superpowers-school/message