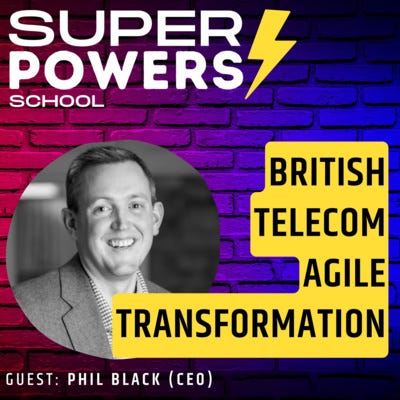 Nov 29, 2022 • 32M
E65: Agile - How I Led An Agile Transformation At British Telecom - Phil Black (CEO)
If knowledge is power, then learning is a superpower. Research shows the average professional invests just 1% (24 mins) of their time per week in formal learning. In each episode, I explore a new superpower to help you unleash your human potential in the age of AI. Join Paddy Dhanda for a regular dose of inspiration from successful entrepreneurs, thought leaders and practitioners to help you build your human skills for the future. Learn about empathy, collaboration, creativity, agility, productivity, leadership, coaching and many more…
In each episode, Paddy deep dives into a new human Superpower and practical advice on how you can apply it immediately.
⚡️ How I Led An Agile Transformation At British Telecom
In this episode, we take a look at how a large corporate organisation (British Telecom) has undergone an agile transformation.
We hear from our special guest, Phil Black, who was instrumental in the early years of the Agile transformation.
We explore:
The reasons behind the transformation

The challenges that were faced along the way

The techniques that made it a success such as Hot Housing
Phil Black (CEO)
Experienced Business, Product and Technology Leader who has, in some way, been involved in helping people and organisations deliver change and transformation, become more agile, and re-imagine digital experiences. He now leads a startup building Mira - coaching technology to radically individualise learning at scale.
👉 Podcast Website: https://www.superpowers.school/
👉 YouTube: https://www.youtube.com/c/paddydhanda/
👉 Contact Paddy at: pardeep_dhanda (at) hotmail.com
★ BUY ME KO-FI ★
If you enjoy the podcast, then you can donate a small amount here as a token of your appreciation: https://ko-fi.com/paddydhanda
--- Send in a voice message: https://anchor.fm/superpowers-school/message