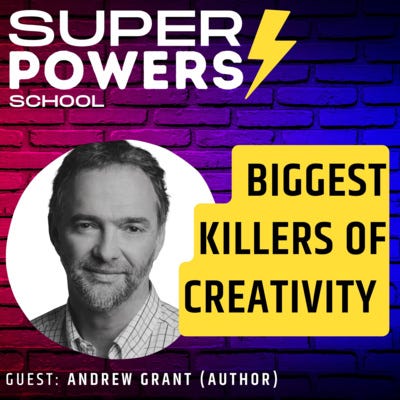 Nov 17, 2022 • 14M
E62: Creativity - Identifying and Overcoming the Biggest Killers of Creativity - Andrew Grant (Author of Who Killed Creativity?)
If knowledge is power, then learning is a superpower. Research shows the average professional invests just 1% (24 mins) of their time per week in formal learning. In each episode, I explore a new superpower to help you unleash your human potential in the age of AI. Join Paddy Dhanda for a regular dose of inspiration from successful entrepreneurs, thought leaders and practitioners to help you build your human skills for the future. Learn about empathy, collaboration, creativity, agility, productivity, leadership, coaching and many more…
In each episode, Paddy deep dives into a new human Superpower you can apply immediately.
⚡️ Identifying and Overcoming the Biggest Killers of Creativity
Creativity is a powerful tool that can spark innovation, inspire new ideas and help us solve complex problems. But creativity can also be fragile, and there are a number of factors that can stifle our creative processes and prevent us from reaching our full potential. In this episode, we will explore some of the biggest killers of creativity, and how we can overcome them to unlock our creative genius.
Andrew Grant
Is the CEO of Tirian international consultancy and co-author of the breakthrough new book Who Killed Creativity?… And How Can We Get It Back? In his roles as a facilitator and keynote speaker, Andrew has been engaged by market innovation leaders to help create a culture of innovation including: Nestle – facilitating a workshop on sustainable solutions for emerging markets at HQ in Switzerland; Four Seasons Hotels – preparing the exec team and all GMs to embrace the potential future of the hospitality industry in Canada; Disney – creating compelling ideas to use for marketing in Asia; Mercedes Benz with innovative brand positioning in China; and a number of large financial institutions around the world – assisting them with dealing with changes to the regulations etc. Andrew has authored over 30 corporate educational resources, simulations and programs that are used by Fortune 500 companies and are sold under license worldwide.
👉 Podcast Website: https://www.superpowers.school/
👉 YouTube: https://www.youtube.com/c/paddydhanda/
👉 Contact Paddy at: pardeep_dhanda (at) hotmail.com
★ BUY ME KO-FI ★
If you enjoy the podcast, then you can donate a small amount here as a token of your appreciation: https://ko-fi.com/paddydhanda
--- Send in a voice message: https://anchor.fm/superpowers-school/message