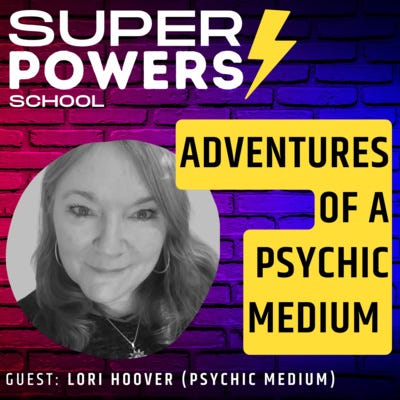 Oct 31, 2022 • 41M
E57: Self-Help - Exploring the Unknown: An Intriguing Look into the Life of a Psychic Medium - Lori Hoover (Psychic Reader)
If knowledge is power, then learning is a superpower. Research shows the average professional invests just 1% (24 mins) of their time per week in formal learning. In each episode, I explore a new superpower to help you unleash your human potential in the age of AI. Join Paddy Dhanda for a regular dose of inspiration from successful entrepreneurs, thought leaders and practitioners to help you build your human skills for the future. Learn about empathy, collaboration, creativity, agility, productivity, leadership, coaching and many more…
In each episode, Paddy deep dives into a new human Superpower and practical advice on how you can apply it immediately.
⚡️ Exploring the Unknown: An Intriguing Look into the Life of a Psychic Medium
What does it mean to be a psychic medium? What adventures can one embark on while exploring this realm of the spiritual world? Delve into the unknown and mysterious realm of the supernatural by taking a journey with a Psychic Medium. Discover the secrets and mysteries of the spirit world as you explore the depths of the spiritual realm. Learn how to connect with spirits, find out what it means to be a psychic medium and uncover the hidden mysteries of the spirit world. Join us on this journey of exploration and discovery as we explore the adventures of a Psychic Medium.
Lori Hoover
A single mom and lifelong intuitive, Lori has been a medium and full-time psychic reader since 2015. She has clients in 13 different countries and has had some truly amazing experiences with them. As a psychic, she has a unique perspective about life - and the afterlife. She hosts a podcast all about connection called Wake the F*** Up!, and shares things that have happened to her along her path, providing tips and tricks to assist others who may be having a similar experience.
👉 Podcast Website: https://www.superpowers.school/
👉 YouTube: https://www.youtube.com/c/paddydhanda/
👉 Contact Paddy at: pardeep_dhanda (at) hotmail.com
★ BUY ME KO-FI ★
If you enjoy the podcast, then you can donate a small amount here as a token of your appreciation: https://ko-fi.com/paddydhanda
--- Send in a voice message: https://anchor.fm/superpowers-school/message