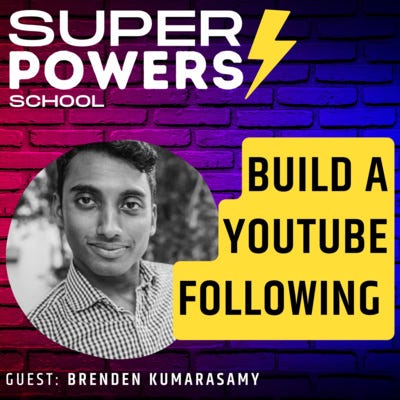 Oct 13, 2022 • 13M
E52: Self-Help - The Key to Growing Your YouTube Channel - Expert Tips for Success | Brenden Kumarasamy (YouTuber and Communication Coach)
If knowledge is power, then learning is a superpower. Research shows the average professional invests just 1% (24 mins) of their time per week in formal learning. In each episode, I explore a new superpower to help you unleash your human potential in the age of AI. Join Paddy Dhanda for a regular dose of inspiration from successful entrepreneurs, thought leaders and practitioners to help you build your human skills for the future. Learn about empathy, collaboration, creativity, agility, productivity, leadership, coaching and many more…
In each episode, Paddy deep dives into a new human Superpower and practical advice on how you can apply it immediately.
⚡️ The Key to Growing Your YouTube Channel - Expert Tips for Success
Do you want to build a following on YouTube? With the right strategies, you can consistently grow your channel and reach a larger audience. In this episode, Brenden Kumarasamy provides valuable insights on how to build a YouTube following and maximize your viewership.
Brenden Kumarasamy (YouTuber and Communication Coach)
Brenden is the founder of MasterTalk, he coaches ambitious executives & entrepreneurs to become top 1% communicators in their industry. He also has a popular YouTube channel called MasterTalk, with the goal of providing free access to communication tools for everyone in the world.
👉 Podcast Website: https://www.superpowers.school/
👉 YouTube: https://www.youtube.com/c/paddydhanda/
👉 Contact Paddy at: pardeep_dhanda (at) hotmail.com
★ BUY ME KO-FI ★
If you enjoy the podcast, then you can donate a small amount here as a token of your appreciation: https://ko-fi.com/paddydhanda
--- Send in a voice message: https://anchor.fm/superpowers-school/message