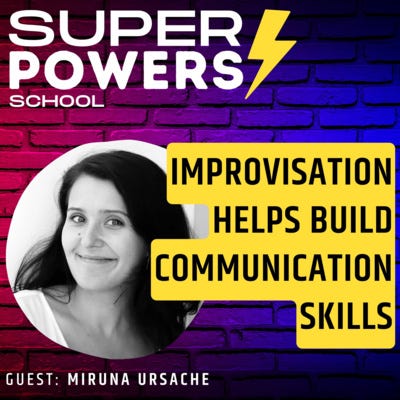 Oct 6, 2022 • 33M
E50: Presentation - Learn How Improvisation Can Help You Develop Essential Business Communication Skills - Miruna Ursache (Communication Coach)
If knowledge is power, then learning is a superpower. Research shows the average professional invests just 1% (24 mins) of their time per week in formal learning. In each episode, I explore a new superpower to help you unleash your human potential in the age of AI. Join Paddy Dhanda for a regular dose of inspiration from successful entrepreneurs, thought leaders and practitioners to help you build your human skills for the future. Learn about empathy, collaboration, creativity, agility, productivity, leadership, coaching and many more…
In each episode, Paddy deep dives into a new human Superpower and practical advice on how you can apply it immediately.
⚡️ Learn How Improvisation Can Help You Develop Essential Business Communication Skills
Are you looking for ways to improve your business communication skills? If so, improvisation may be the answer. Improvisation is a powerful resource that can help you really engage with your colleagues, clients, and customers. Through improvisation, you can develop communication skills that will have a positive impact on your business. In this episode, Miruna Ursache explores the power of improvisation and how it can help build business communication skills.
Miruna Ursache (Communication Coach)
Writer, content creator, trainer and speaker, Miruna has extensive experience in personal, multicultural and corporate communication. Her method includes dedicated games and exercises, while using improvisation theatre as main technique. Entirely interactive and practical, the workshops Miruna created aim to enable participants to play and have fun, experiment and consequently enhance their communication abilities, self-awareness and empathy. "Everything that I teach, I have already tried or applied myself" she often says, therefore emphasising the importance of personal experience in training.
👉 Podcast Website: https://www.superpowers.school/
👉 YouTube: https://www.youtube.com/c/paddydhanda/
👉 Contact Paddy at: pardeep_dhanda (at) hotmail.com
★ BUY ME KO-FI ★
If you enjoy the podcast, then you can donate a small amount here as a token of your appreciation: https://ko-fi.com/paddydhanda
--- Send in a voice message: https://anchor.fm/superpowers-school/message