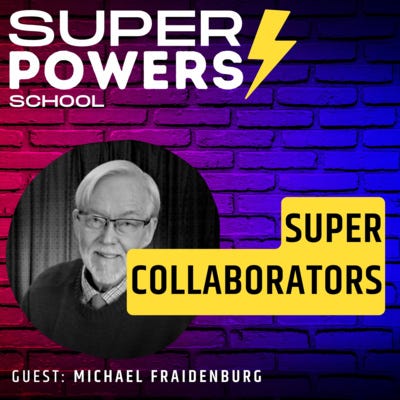 Aug 18, 2022 • 11M
E36: Self-Help - Unlock Your Inner Super Collaborator - Tips and Strategies for Maximizing Your Teamwork Skills - Michael Fraidenburg (Author)
If knowledge is power, then learning is a superpower. Research shows the average professional invests just 1% (24 mins) of their time per week in formal learning. In each episode, I explore a new superpower to help you unleash your human potential in the age of AI. Join Paddy Dhanda for a regular dose of inspiration from successful entrepreneurs, thought leaders and practitioners to help you build your human skills for the future. Learn about empathy, collaboration, creativity, agility, productivity, leadership, coaching and many more…
In each episode, Paddy deep dives into a new human Superpower and practical advice on how you can apply it immediately.
⚡️ Unlock Your Inner Super Collaborator - Tips and Strategies for Maximizing Your Teamwork Skills
Are you always looking to be a better collaborator at work or in your personal life? Have you ever wished you could make any group project or collaboration effort a successful one? Michael Fraidenburg, author of "Mastering Online Meetings", has the answers you've been looking for. In this episode, he reveals the strategies and tips needed to help you become a super collaborator and make any project a successful one. Learn how to create the perfect synergy with your collaborators, the importance of communication, and how to stay organized and efficient. Whether you're looking to better collaborate with your co-workers, classmates, family, or friends, this episode will give you the tools and know-how to reach your goals and make every collaboration a success.
Michael Fraidenburg (Author)
Favorite quote: "A person's most important achievement is their next one…" Andrea Mead Lawrence Michael Fraidenburg is a certified mediator and author who lives about seven miles from where he was born in Olympia, Washington. He has taught facilitation skills for 25+ years and facilitated meetings for twice as long. His area of focus is high-conflict meetings and those with scientific and technical complexity. He owns two businesses, MasteringOnlineMeetings.com and The CooperationCompany.com. Michael is the author of, • Mastering Online Meetings—52 Tips to Engage Your Audience and Get the Best Out of Your Virtual Meetings • The Art of Asking Questions to Get Past "NO"—It's time to Geek-Out on a Facilitator's Best Friend—Asking Questions (eBook) • Intelligent Courage—Natural Resource Careers That Make a Difference In his Mastering Online Meetings work, Michael helps people fix awful online meetings. In his Cooperation Company work, he helps people improve their effectiveness through conflict resolution.
👉 Podcast Website: https://www.superpowers.school/
👉 YouTube: https://www.youtube.com/c/paddydhanda/
👉 Contact Paddy at: pardeep_dhanda (at) hotmail.com
★ BUY ME KO-FI ★
If you enjoy the podcast, then you can donate a small amount here as a token of your appreciation: https://ko-fi.com/paddydhanda
--- Send in a voice message: https://anchor.fm/superpowers-school/message