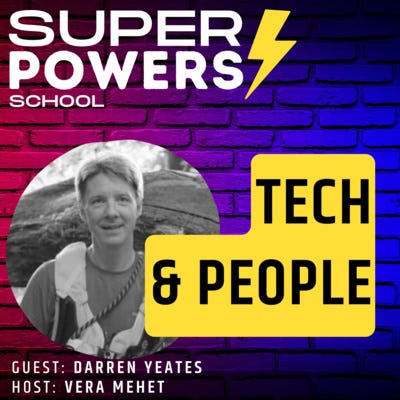 Aug 11, 2022 • 19M
E34: Self-Help - Embracing Technology and Humanity: Unlocking Our Passion for Progress - Darren Yeates (Agile Coach)
If knowledge is power, then learning is a superpower. Research shows the average professional invests just 1% (24 mins) of their time per week in formal learning. In each episode, I explore a new superpower to help you unleash your human potential in the age of AI. Join Paddy Dhanda for a regular dose of inspiration from successful entrepreneurs, thought leaders and practitioners to help you build your human skills for the future. Learn about empathy, collaboration, creativity, agility, productivity, leadership, coaching and many more…
In each episode, Paddy deep dives into a new human Superpower and practical advice on how you can apply it immediately.
⚡️ Embracing Technology and Humanity: Unlocking Our Passion for Progress
Darren Yeates is an Agile Coach with a passion for both technology and people. For more than a decade, he has been helping teams and organizations to transition to Agile and to increase their ability to create more reliable and successful products. His experience in guiding and empowering teams has enabled them to become more successful in their pursuits and to reach their goals. In this episode, we explore Darren's passion for technology and people and how his unique approach has helped organizations reach their goals and objectives.
Darren Yeates (Agile Coach)
Darren is a highly experienced Enterprise transformation professional and engineering manager. He has delivered Agile organisational change in organisations such as NatWest, BAE Systems, McLaren and Thales over the past 20 years. Darren has extensive experience of building organisations, delivery teams, and environments where continuous improvement of the development and delivery process is the focus and where everyones common goal is to sustainably deliver outstanding outcomes. Leading via coaching and mentoring, he is passionate about communication, group dynamics and coaching, and is not afraid to raise issues or drive change to remove impediments from delivery teams and continuously improve organisational behaviour. He is currently Director of Software Engineering at SITA, focussing at the moment on engineering practices, cloud migration, portability and organisational culture. With a passion for technology, Darren is still a software engineer at heart. This brings great benefit when working with delivery teams – he knows what they are going through as he has been there and done that. Darren keeps technical by developing iOS and Android apps. Javascript and React Native are his current tools. He is a Chartered IT Professional with the British Computer Society, a certified Enterprise transformation and team Agile coach, Certified Scrum Professional (CSP), Scrum Master (CSM), Product Owner (CPO) a member of the Scrum Alliance and is currently seeking expert status with ICAgile for Enterprise Agile Coaching. Darren is a nationally qualified Search Dog Handler for Lowland Rescue and together with his dog Millie, assist the emergency services to locate missing and vulnerable people. They are on call 24/7, 365 days a year.
👉 Podcast Website: https://www.superpowers.school/
👉 YouTube: https://www.youtube.com/c/paddydhanda/
👉 Contact Paddy at: pardeep_dhanda (at) hotmail.com
★ BUY ME KO-FI ★
If you enjoy the podcast, then you can donate a small amount here as a token of your appreciation: https://ko-fi.com/paddydhanda
--- Send in a voice message: https://anchor.fm/superpowers-school/message