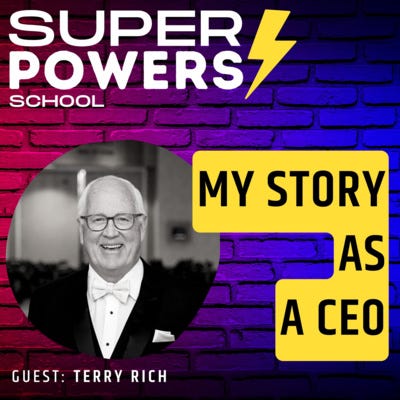 Jun 21, 2022 • 22M
E19: Entrepreneurship - Get Inspired by the Most Creative CEO - Terry Rich (Entrepreneur & CEO)
If knowledge is power, then learning is a superpower. Research shows the average professional invests just 1% (24 mins) of their time per week in formal learning. In each episode, I explore a new superpower to help you unleash your human potential in the age of AI. Join Paddy Dhanda for a regular dose of inspiration from successful entrepreneurs, thought leaders and practitioners to help you build your human skills for the future. Learn about empathy, collaboration, creativity, agility, productivity, leadership, coaching and many more…
In each episode, Paddy deep dives into a new human Superpower and practical advice on how you can apply it immediately.
⚡️ Get Inspired by the Most Creative CEO
Terry Rich is a master of creativity and innovation, a successful entrepreneur and CEO who has pushed boundaries and created lasting value for his businesses and customers. He has disrupted industries, built powerful teams, and inspired an entire generation of entrepreneurs and business leaders. Terry Rich is the epitome of what it means to be a creative CEO, and his story offers us a great insight into the power of creative leadership. Join us as we explore the success of Terry Rich, his creative strategies, and the lessons we can learn from his remarkable journey.
Terry Rich (Entrepreneur & CEO)
Creative. Lucky. Energetic. Fraud-busting. Terry Rich is a successful CEO and President of 25 years who loves to engage and entertain audiences across the globe. During his appointment by three Governors, his leadership increased lottery sales and profits by 50%. He also led the Blank Park Zoo to profitability from a $600,000 deficit while positioning it as the second largest attended attraction in the state. But his national insight on business, banking, gaming, TV production, marketing and PR led him to success in his professional career and to his passion for public speaking. Oh, and he's also given away over $1 billion. Recently, Terry headed the team that cracked the largest lottery fraud in US history. During the investigation, Terry oversaw day-to-day operations while considering longterm consequences, adapting quickly to change, and delivering on promises. Before that, he started four successful entrepreneurial businesses, and has numerous national media appearances including ABC, NBC, HBO, CBS, 20/20, CNN, CNBC, USA Today and The New York Times; a movie host on Starz!; and appeared as a panel guest on the "Tonight Show". He's a disruptive innovator and entrepreneur with a drive for integrity and honesty. He's worked in the trenches, survived new business trends and had success with generational changes. Terry's keynotes are energetic, motivating and perfect for an early morning, lunch or after dinner presentation. Terry Rich has authored two books: The $80 Billion Gamble and Dare to Dream, Dare to Act.
👉 Podcast Website: https://www.superpowers.school/
👉 YouTube: https://www.youtube.com/c/paddydhanda/
👉 Contact Paddy at: pardeep_dhanda (at) hotmail.com
★ BUY ME KO-FI ★
If you enjoy the podcast, then you can donate a small amount here as a token of your appreciation: https://ko-fi.com/paddydhanda
--- Send in a voice message: https://anchor.fm/superpowers-school/message