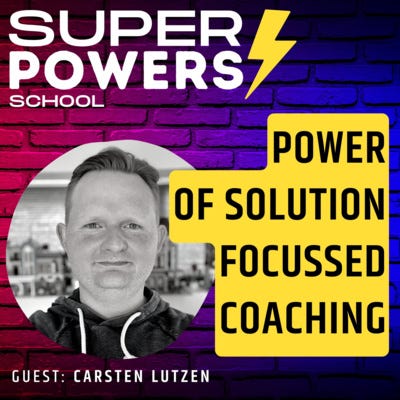 Jun 16, 2022 • 13M
E18: Coaching - Discover the Benefits of Solution Focussed Coaching - Carsten Lutzen (Agile Coach at Lego Group)
If knowledge is power, then learning is a superpower. Research shows the average professional invests just 1% (24 mins) of their time per week in formal learning. In each episode, I explore a new superpower to help you unleash your human potential in the age of AI. Join Paddy Dhanda for a regular dose of inspiration from successful entrepreneurs, thought leaders and practitioners to help you build your human skills for the future. Learn about empathy, collaboration, creativity, agility, productivity, leadership, coaching and many more…
In each episode, Paddy deep dives into a new human Superpower and practical advice on how you can apply it immediately.
⚡️ Discover the Benefits of Solution Focussed Coaching
Solution Focussed Coaching is a type of coaching that focuses on helping individuals and teams develop solutions to their challenges. It is based on the belief that change and growth come from within, and that each person has the resources to identify and achieve their personal and professional goals. Solution Focussed Coaching emphasizes the importance of creative problem-solving, leveraging the strengths of everyone involved, and focusing on the present rather than the past. With the help of an experienced coach, individuals and teams can explore and implement solutions that are tailored to their unique situation. In this episode, we will explore what Solution Focussed Coaching is, how it can help individuals and teams, and how Carsten Lutzen, an Agile Coach at the Lego Group, is leveraging this approach to help people reach their goals.
Carsten Lutzen (Agile Coach at Lego Group)
Carsten is a playful Agile Coach at the LEGO Group. He shares content every week on his YouTube Channel within facilitation, Liberating Structures, Agile, Coaching, and other topics he finds interesting. Carsten has a deep passion for getting people and teams to work together in a positive and constructive way where there is room for everybody.
👉 Podcast Website: https://www.superpowers.school/
👉 YouTube: https://www.youtube.com/c/paddydhanda/
👉 Contact Paddy at: pardeep_dhanda (at) hotmail.com
★ BUY ME KO-FI ★
If you enjoy the podcast, then you can donate a small amount here as a token of your appreciation: https://ko-fi.com/paddydhanda
--- Send in a voice message: https://anchor.fm/superpowers-school/message